• Davis Wash Competes As Miss Lexington Teen
Davis Wash, upcoming 9th grader, will be competing in the Miss South Carolina Scholarship Organization Teen competition as Miss Lexington Teen. This is this week, from June 22 to June 26. Upcoming Patriot 6th grader, Miss Ashland Yonce willl serve as Davis's princess for the week.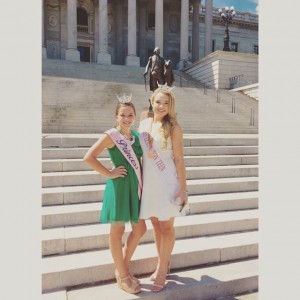 Davis is a daughter of Melanie and Matt Wash and the granddaughter of Jackey and Doug Wash, both of Edgefield, and Bill and Darlene Wilson of Saluda. Ashland is the daughter of Melissa and Chris Yonce and granddaughter of Nina and Larry Yonce of Johnston and Dr. Edgar and Margie Cordero of Pittsburg, Penn. Her great-granddaddy is Mr. Billy Yonce.
Davis will be singing Via Dolorosa for the presentation of her talent. The girls checked in Saturday morning and have a full schedule.
One may visit miss-sc.org for pageant times. There is also the opportunity to vote for Davis here for People's Choice Award to earn money for Children's Miracle Network.