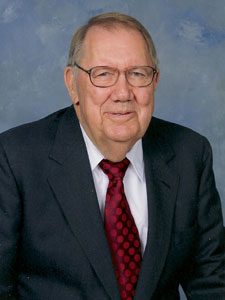 EDGEFIELD, S.C. – Mr. Everett J. (E.J.) Sigers, age 87, of Edgefield, SC peacefully passed away Saturday, June 27, 2015.
He was born in Rockmart, Georgia on April 11, 1928, son of the late Doss and Estelle Sigers. He and his late wife, Fay Sigers were grade school sweethearts and prior to her death had been married 65 years.
He was the last living child of his parents, having had four brothers: Frank, Deone, DF and Otis Sigers: two sisters, Maxine Clayton and Mary Lou Sigers.
His beginnings as a grocery bag boy in Jr. high school led him successfully up the corporate ladder of Colonial Stores and Big Star Food Stores. His retirement brought to fruition a lifetime dream when he and two of his "best grocery business buddies" purchased and successfully ran three grocery stores located in the Columbia/St. Matthews area.
Survivors include two daughters, Teresa Jeter (Harry) and Sheila Huiet (Gene): grandsons, Everett Jeter (Morgan), Gantt Huiet (Callie), granddaughters, Lissy Easley (Jaime), Laura Scales (Josh) and Haley Williams (Justin): six great grandchildren, Banner and Chanie Scales, Evan Jeter, Davies, Huiet and Samuel Easley: a special niece, Heather Thomas (Danny) and many other nieces and nephews.
He was a member of Edgefield First Baptist Church. He served the Lord with a tender, generous heart by giving to others expecting nothing in return. He lived a life that taught his children and grandchildren that even the small things done for others shines the light of Jesus.
Graveside services will be Tuesday, June 30, 2015, at 10 A.M. in the Ebenezer Cemetery, Trenton, SC with the Rev. Stacy Williams officiating. Time after the service will be set aside for those wishing to speak to the family.
Pallbearers will be Everett Jeter, Danny Thomas, Gantt Huiet, Josh Scales, Jaime Easley, Justin Williams.
Honoring his love for his dog, Rosco, in lieu of food or flowers, memorials can be sent to Pawmetto Lifeline Animal Rescue, 1275 Bower Parkway Columbia, SC 29212.
Edgefield Mercantile Funeral Home is in charge of arrangements.
Please sign the online register book at www.edgefieldmercantilefh.com.