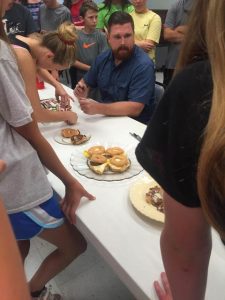 – By Alana Caddell, Advertiser Intern –
If it so happened that someone driving through the backwoods of Edgefield this past week, somewhere between six and eight post meridiem, that someone might've seen a multitude of teenagers surrounding Antioch Baptist Church. Starting on Sunday and ending on Thursday, Antioch's "Five Days O' Fun" was what I suppose the Vacation Bible School for the youth could be called.
It was the product of a hardworking team of adult volunteers, led by Randy Jackson, the youth pastor and his wife.
On Sunday, the event-of-the-day was a series of races between two people encased in giant, inflatable hamster balls. Monday's activity was a run of a particular nature –the participants ran through about a half of a mile of trail that was riddled with different obstacles. . . and a ton of mud. "Mud Run" one might say! There was a dodge ball tournament – the one event that remains the same from year to year –the event for Tuesday night.
When Wednesday came, everyone stuffed themselves with donuts during the Krispy Kreme Olympics (a series of competitions involving donuts from Krispy Kreme.). On Thursday, there was a chance to walk off the many donut calories throughout the course of the final event: a day-long trip to Carowinds.
All five days were extremely fun, living up to the name of the occasion. By the end of the week, there was only one question that everyone was asking: what will next year's events be?