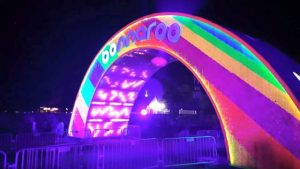 Special to The Advertiser By Samuel Northrop
Last week I was given the opportunity to attend one of America's largest and most prestigious music festivals. Over the course of four days, Bonnaroo Music and Arts Festival (or simply Bonnaroo) featured over 98 bands, 20 comedians, 30 DJ's and more. Having never attended any kind of event of this scale, I was not sure what to expect, and what I got was a busy, hot, and outrageously fun weekend that I would highly recommend to people of all ages.
There is no doubt that the festival is dominated by young people, but what really struck me was the diversity of the acts that drew an almost equally diverse crowd. I met people from different countries, generations, and all other walks of life, united by the common goal of having a good time and enjoying music. Acts ranged from modern hip-hop, nu-age dance music, bluegrass, to stalwarts in the music industry like Robert Plant and headliner Billy Joel.
All together there were over eight stages that featured music continuously for about twelve hours per day. When one band finished, the sound and equipment personnel went to work immediately breaking down the old set-up and getting ready for the next band. I say it was busy because often times two bands that I really wanted to see would be playing at nearly the same time. I would regularly hear the last song from one band and have to rush to the other side of the fifty-acre plot where the stages are gathered to catch another act. This would sometimes result in four or five hours of constant music and by the end of the weekend I was truly exhausted.
A large part of what kept me going was the unending positivity and generosity of those around me. If I ever forgot anything like water or sunscreen, I would never have to ask more than one person to borrow some and often times they would insist on giving me the rest of what they had. And of the dozens of people that I met over the weekend, it is safe to say that over half of them were not there for the first time. In fact, two guys all the way from Wisconsin that were camped next to me for the weekend were actually there for their fourth consecutive times.
"We have always enjoyed live music and when we bit the bullet and bought tickets four years ago we had doubts that it would live up to the hype," said Bobby Kucera. "But after the first day, we were sold on coming back and we will probably keep coming back for as long as we can."
"It's not just the music either," his friend Joeseph Mooney added. "You meet some of the nicest people on earth here and form connections that you would have never made anywhere else. As a matter of fact we're meeting up with the people we camped next to on our second year later today."
These kinds of stories make Bonnaroo feel elevated in a way. As if it has taken on a mind of it's own and formed a community within itself in which strangers who see each other only four days a year come together and act like they've known each other since elementary school.
Two words are spoken more often than any others at one of America's premier music festivals: radiate positivity. Bonnaroo has preached this message ever since it's inception in 2002 and I have to say that it has really taken hold in both the performances and the crowds. It truly is four days of music with 90,000 of your closest friends and it is an experience that will stay with me forever.