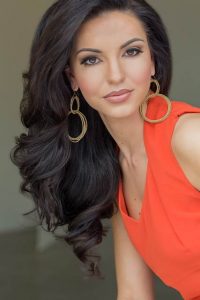 Mae-Ann Webb, Miss York 2015, will compete June 23-27 in the Miss South Carolina Pageant in Columbia, South Carolina.  She is a native of Ridge Spring.  In a recent post on Facebook Miss Webb stated, "Miss South Carolina is a job far beyond the glamorous lifestyle of wearing a crown and banner.  I know that I am in a place in my life to take on this full time position of Miss South Carolina and be dedicated to the Miss America Organization."  In August, she will graduate from the University of South Carolina with a degree in Retail and Fashion Merchandising with a minor in Hospitality and Event Management.  She is on the President's List at USC and will graduate Cum Laude.
In her Facebook post, she expresses the positive impact the Miss South Carolina Organization is making in her life by saying, "Being Miss South Carolina would give me the opportunity to utilize my resources from traveling to social media to promote this prestigious scholarship program for women and be a positive role model.  I hope to encourage and influence others to step up and be good role models.  The Miss South Carolina Organization has encouraged me to share my passion for community service, promote the Children's Miracle Network and further develop my personal Platform, DARE, which stands for Kidney Disease, Awareness, Resources and Education."
The Children's Miracle Network is the charity which was officially named the Miss America Organization's platform in 2007. Since then, the partnership has raised more than $10 million, benefiting member CMN hospitals across the United States.
Miss Webb's two princesses are McKenzie Wannamaker of Saluda and HesterGrace Covington of Batesburg.   Her princesses will be involved in activities throughout the week and will make stage appearances with Miss York 2015.  Three weeks ago, Miss Wannamaker experienced first hand the benefits of the Children's Miracle Network at Georgia Regents Medical Center in Augusta, Georgia.  She fell and suffered a fracture in her arm, which required surgery and three pins.  The CMN was there and suddenly the charity with which she had been assisting her queen came to life before her eyes.
The contestants arrive for the Pageant on June 19 and will compete a total of six days.  Tuesday, Wednesday and Thursday nights will be preliminary nights at the Township Auditorium in Columbia, the city that has been named the new Southern hotspot.  The Teen Competition will be on Friday evening highlighted with a banquet at the Columbia Metropolitan Convention Center to follow.  Saturday evening at 8:00pm Mae-Ann Webb will vie for the title and her personal dream job.  the Pageant will be televised live on Saturday evening on WACH FOX 57 News in the Columbia area or on any FOX NEWS channel in the state. The public is invited to attend the Pageant at the Township Auditorium and tickets are available at the box office or through Ticket Master.  Visit www.miss-sc.org for more info.
"I am fully prepared to take on the role and make any sacrifices to fulfill my duties as Miss South Carolina,"stated Miss Webb. She added, "In addition, the Miss America Organization can be confidant that I will maintain a positive image and work ethic. Miss South Carolina is a once in a lifetime opportunity and I would welcome the Job!"
You can vote for Mae-Ann Webb in the Miss South Carolina People's Choice Award by visiting www.miss-sc.org/peoples-choice-award-catalog/miss/missyork by 11:00pm Thursday evening, June 25. The winner of the People's Choice Award will be guaranteed a spot in the top 15.