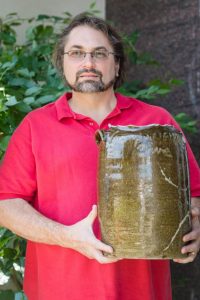 George Wingard of the Savannah River Archaeological Research Program and co-producer of the award-winning movie Discovering Dave visited the offices of The Edgefield Advertiser recently to help tout the numerous awards the movie has received. Wingard and co-producer Mark Albertin (videographer and owner of Scrapbook Productions) give credit to the Dave pot that was uncovered in excavations in 2006 as the catalyst for telling the story of Dave Drake, an Edgefield slave who created thousands of pots during the 19th century. Many of his creations (over 50 have been documented) carry his name and poems that came out of his experience as a slave and a devoted worker in early Pottersville.
The pot that one might say "launched a movie" was in George's hands as he entered the offices and he nimbly placed it on the sofa next to him. This pot was found in many broken pieces, but now holds together with glue, a kind that George can easily wash away if necessary to leave the pieces "virginal" as they were found in an excavation on the SRS grounds. The pot holds together very well and seems to have become a part of George's "garb" as he carries it with him when speaking about the discovery of shards of pottery, Dave who created the pot and now the movie and its impact. Seen as a documentary, the movie also holds strength as an inspirational film.
The impact of this movie, produced in 2013, is still strong as it is being shown over the nation and the world, to tell the story of Dave, "Spirit captured in Clay," another title for the story of Dave, given by its producers.
Here is a list of awards (delivered to the press by Wingard) so far not including a 2014 Award of Merit from the SC Confederation of Local Historical Societies.
Outstanding Selection – Dixie Film Festival in Athens, Georgia
Outstanding Selection – Beaufort International Film Festival in Beaufort, South Carolina
First-runner up Best Documentary – 2014 Myrtle Beach International Film Festival, Myrtle Beach South Carolina
First-runner up Best Film & Most Inspirational Film at the Archaeology Channel International Film Festival, Eugene, Oregon…
Best South Carolina Heritage Film & Audience Favorite – 2014 Arkhaios Cultural Heritage Film Festival, Hilton Head, South Carolina.
Outstanding Selection – 2015 San Diego Black Festival, San Diego, California.
Outstanding Selection – 2015 Langston Hughes Performing Arts Center African American Film Festival, Seattle, Washington
Best Documentary – 2015 South Carolina Cultural Film Festival, North Charleston, South Carolina