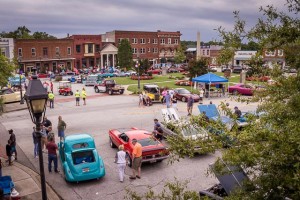 Come enjoy the annual Edgefield Cruise-In this Saturday, July 18th, 2015, from 4 to 7 p.m., rain or shine. Car lovers will be gathering around Edgefield Square to show off their vehicles and visit with other car enthusiasts. Even with poor weather last year's event drew over 100 cars.
People with classic cars, trucks or motorcycles are invited to park on the square. Spectators are invited but asked to park outside the square. This is a free event. WKSX will be broadcasting live playing Oldies. The Civic League will be selling spaghetti dinners for $10, The Edgefield General Store will have plenty of ice cream and fresh fruit smoothies to help you stay cool.  Carolina Moon Distillery will be giving away a free glass with every bottle of brown whiskey sold.  Park Row will have barbeque and fresh deli sandwiches.
The major sponsors that made this possible are The Town of Edgefield, Pendarvis Chevrolet, Jim Satcher Motors, Herlong Ford, Buick and Chrysler, Bluegrass Material's Edgefield Quarry, Carolina Moon Distillery, The NWTF Turkey Shoppe, and Reel Insurance.  Plus Park Row Market, The Edgefield Advertiser, Carolina Machine Shop, Seawright Cleaners, Crouch Hardware and Beth Padget's House Next Door Antiques (creator of the event).  Be sure to stop in and visit these sponsors, without them this event would not be possible.  For more information call 803-637-4600.