Feature
– By Sigrid H. Fowler and Sam Fowler –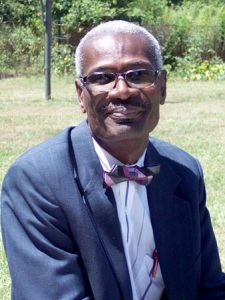 When asked if the news made him angry, the Rev. Eddie J Woods of Trinity Community Church in Edgefield, thought a bit then said, "No, I wasn't angry with the individual. The spirit that drives something like that is what we wrestle with. That is what drives a person. No one in a right state of mind would take a person's life, be controlled by anger that way."
Pastor Woods was reflecting on the death of his friend and fellow seminarian, Clementa C. Pinckney, senior pastor of Emanuel A.M.E. Church in Charleston, who with eight members of the church was shot during a Bible study on June 17, 2015. The pastor experienced the unbelief we all remember; for him, the shock was greater, the grief more intense because it was personal.
"We called Pinckney 'the baby of the bunch' because he was the youngest of the students. He looked so young, and he didn't say a lot. We were all older, and he didn't talk much. He just listened. Pinckney was very humble around the older men. He was very observant, always interested in people—especially poor people."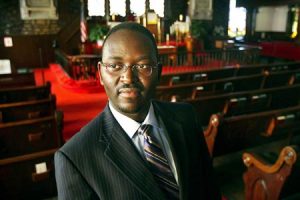 Clementa Pinckney, the son of John and Theopia Pinckney of Ridgeland, SC, near Beaufort, was called to preach at age thirteen and by eighteen was pastoring his own church, Young's Chapel, Irmo. The bishop in an A.M.E. (African Methodist Episcopal) Church assigns pastors to churches in a four-year rotation, and Pinckney served in the Port Royal Circuit, functioned as presiding elder of the Wateree District, and pastored Campbell Chapel, Bluffton, before being called in 2010 as senior pastor to the Emanuel Church in Charleston. He followed a long line of pastors on his mother's side, the Stevenson family. The Pinckneys are thought to have been slaves of Charles Cotesworth Pinckney, a framer of the United States Constitution.
On June 24, the body of Clementa Pinckney lay in state in the rotunda of the South Carolina Statehouse in Columbia. Pastor Woods attended the viewing and told us about it. "I waited in line an hour," Woods said. "A total of three thousand people were there. The community came together—all nationalities. People were exchanging information, connecting and thinking of ways to collaborate." Unity was the watchword. Two days later, at the College of Charleston, a maximum-capacity crowd overflowed into other designated areas for the funeral service.
Clementa Pinckney had served the people of South Carolina beyond the doors of the church and he was loved. In 1996, when elected to the House of Representatives, Pinckney was twenty-three. He became a State Senator at twenty-seven (2000), serving the 45th District (the counties of Jasper, Beaufort, Charleston, Colleton, and Hampton). He was the youngest African American to be elected to the South Carolina Legislature. Public service of this caliber was no surprise to Pastor Woods. "Pinckney always liked people. He worked well with people. He knew where he wanted to go in life."
The connection between Woods and Pinckney extended beyond student days. Only three months before he died, Rev. Pinckney delivered the eulogy at the Columbia funeral of a family member of Mrs. Eddie J Woods; the pastor remembered it sadly when we spoke. On June 17, when Woods learned of the shootings in Charleston, he went to Bethel A.M.E. Church in Columbia. The church, like "Mother Emanuel," serves as a gathering place. The Bethel Church, a haven and refuge that day for those who wanted to pray, is, with Mother Emanuel, among the oldest, largest, and most historic of the A.M.E. congregations in South Carolina and the South. "They go way back, to slavery times," Woods explained.
Pastor Woods talked about the aftermath of the tragedy and the inspiring ability of bereaved families to forgive. "The families came together," Woods said. " 'You are forgiven' was their message." It was amazing grace indeed, a point movingly emphasized by President Obama when he offered his musical eulogy at the funeral of Clementa Pinckney. The life being mourned and honored was indeed worthy of attention in the highest circles. Pinckney (1973-2015) graduated magna cum laude from Allen University with a degree in business administration, and he began serving his fellow South Carolinians early: freshman class president, student body president, senior class president. Ebony named him "one of the Top College Students in America." He was the recipient of Princeton University's Woodrow Wilson Summer Research Fellowship in public policy and international affairs; he was a graduate of the University of South Carolina with a Master's in Public Administration. His Master of Divinity degree was earned at the Lutheran Theological Southern Seminary, where he delivered the commencement address in 2010.
In his June 25 piece for the New York Times, "Clementa Pinckney, Called to Pulpit and Politics in a Life Cut Short," Kevin Sack included this comment from an interview: "The most irritating thing about Senator Pinckney," said State Representative William K. Bowers, a Democrat from his district, "is that when you had a debate he would just come over and pat you on the back and say, 'Maybe tomorrow you'll be thinking right.' He was full of love and full of respect."
The comments of Eddie J Woods raise some probing questions. How can we reach out to Pinckney's wife Jennifer and two daughters, Eliana and Malana? How can we echo the spiritual generosity of the grieving families of Mother Emanuel? Maybe prayer is the best answer. Like Pastor Wood, who gathered with others at the Bethel Church on June 17, we can pray—especially for unity. The Senator left us an example not of public service alone, but of faith and spiritual service. Pinckney's efforts and his life are bearing abundant fruit. His death will be more than a terrible loss to this state if we remember.
—
Midlands Unity Fund for Mother Emanuel
A "Midlands Unity Fund" has been established through a local bank, First Citizens, as a way for citizens of this area to reach out to the families and church of those nine murdered at Mother Emanuel in Charleston on June 17. One may place contributions to any of the First Citizens Banks in this area.
Edgefield and its surround are far from the place of the tragedy, and this is a way for anyone so desiring to express comfort and concern through a monetary contribution.
A sponsoring organization, Women in Unity, is asking other offices, agencies or individuals to join in the sponsorship by placing their names with collected contributions, as directed in an ad on page 1 section 2 of this week's Advertiser print edition.
It has been expressed by those working on this Fund that the size of the contribution is not so important as the effort to help bring notice of this local community joining in the mourning and hope for reparation following this tragedy.