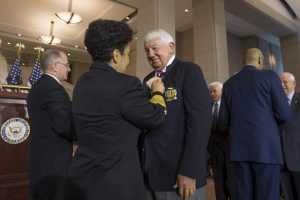 Frank Feltham of Edgefield, US Navy Ret., Navy Pilot, was one of ten who represented Vietnam Veterans in an historic event in Washington, D.C. – at the Capitol Building. This was in the afternoon on July 8, 2015.
The program identified the event as "Congressional Commemoration in honor of the 50th Anniversary of the Vietnam War" to be held in the U.S. Capitol Visitor Center. The ten who were invited represented the five Armed Forces involved in the war: Army, Navy, Air Force, Marines and Coast Guard.
Noted on the program were the Leadership of the House and Senate and the Chaplains of the House of Representatives and of the Senate. Music and colors were presented by the U.S. Army Band, U.S. Armed Forces Color Guard, and the U.S. Army Chorus. All in all, according to Feltham, it was "impressive with staffing and decorum that showed great organization."
Feltham, who was in the area of his old Alma Mater The Naval Academy, drove over from Annapolis to go to the Capitol Building, for the first time. (His wife Ethel accompanied him for this auspicious event) This was "the first time" for Frank, although he had attended Bullis Preparatory School as a teenager at Springfield, Va., only a few miles from the Capitol. (A friend of his brother John, the late Ike Heyward, had attended this school and suggested it for Frank.)
Frank went on to tell that he certainly had been to the Smithsonian and other important places in Washington. How thrilling it must have been to make a first appearance as a veteran who was to be "pinned" for his services in the Navy as a Vietnam Veteran! And the pinning was done by Vice Chief of Naval Operations, four star Admiral Michelle Howard, first female 4 star Admiral in the 238-year history of the Navy.
The day held its glamour, of course, and he said that he and Ethel were delighted to have found their way in the city to Union Station (very near the Capitol), in the morning. They parked there and upon their return, some hours later, they entered the front door to find a fine dining restaurant, with liveried waiters and white cloths, at the front of the building where they chose to have dinner before returning to their Annapolis home.