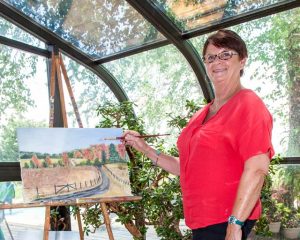 The two women whose art will appear in the Aiken Artist Gallery of the Aiken Center for the Arts in July are both educators who now seek second careers as artists. Debbie Black is a recent retiree whose varied career in education ended this past June with her last days as an assistant principal at a Wagener School. Virginia Culbertson, who came to Edgefield to work as assistant principal at JET Middle and then principal at Merriwether Middle School, is now five years into a happy retirement in which she has spent much time pursuing her favorite activity, painting.
Culbertson says she has drawn since she could pick up a pencil. The only limitation she faced was placed upon her by a strict grandmother whose religion forbade her to draw on Sundays. Born in Greenwood, SC, and raised in Charleston, she found herself in Minot, ND, when her husband was stationed there with the Air Force. Looking for something to do, she took art classes, soon entering her first ever art show and taking first place. She has continued to paint ever since, often finding her own subjects, but sometimes painting a particular scene at the request of a friend or neighbor who has traveled somewhere and wants a souvenir. She has worked in oils, acrylic, and watercolor. The July exhibit will include a mix of the three mediums.
The studio in Culbertson's Edgefield home is located at the end of her kitchen counter. There, she sets up a table easel in such a way that she can paint and keep an eye on the television in the den beyond. She also often packs up her paints and travels to a friend's studio or other venue to pursue a painting.
As a young person, Debbie Black was a doodler. As she listened to her teachers, she would draw as a means of finding focus. She did not take art lessons, however, until she began work on a master's in Learning Disabilities at Winthrop University. The degree required electives, so she took classes in painting, drawing, and golf. Golf is no longer a frequent activity, but the love of painting remained. She started with oils, but eventually found that they were too messy to work with when she had young children. Other life changes, including work toward a University of South Carolina doctorate that she could ultimately claim, also interfered with her pursuit of art. Then, when she taught at Newberry College, one of the art professors offered her the corner of a studio in which to work, and she found that she was able to paint again. This time she turned to acrylics and watercolors as her mediums of choice. Art became both hobby and therapy.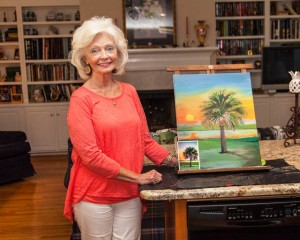 Now living on a farm near Ridge Spring that has been in her late husband's family for over 200 years, Black finds much in the landscape around her on which she can use her brush. She has also taken a painting trip to Italy that provided her with material for her canvases. She paints in a studio that is very like a greenhouse, situated at the rear of her house. Its curved glass walls allow complete views on three sides, and also permit the space to be well lighted in daytime hours, making it a perfect place for her and occasionally others to paint. A pool beyond often beckons her and her painting companions to its waters when they have finished painting on a hot summer day.
Black and Culbertson are two parts of a four member painting group that may paint at Anne Rauton Smith's or Judy Adamick's studio as well as at Black's studio or even occasionally in outdoor spaces. Though the two artists look up to Adamick and Smith as mentors, each gains from the other as well. The four artists all learn from each other and enjoy each other's company as they work.
In at least one instance, the painting skill has been passed on to a child. Culbertson's daughter Ellen Abramo, who lives in Pennsylvania, is an illustrator of children's books, which she promotes through her website, Fruitfulfriends.com. Her daughter has five children who visit in the summer to attend Camp Ya Ya, during which she plans many activities for them. Culbertson's son David is an internist practicing in the Napa Valley, CA, area. She and her husband John will travel in August for a visit where they will enjoy their two youngest grandchildren, now ages two and four.
Black also has two children, neither one far away. Her son Will used his artistic skills to become a graphic designer, but he is now back at home, developing a part of the family farm to raise poultry. Her daughter, Stacy Osment, a fourth grade teacher in Lexington, is following in her mother's footsteps as an educator if not as artist.
Cutlines next page–
CUTLINES for photos
Debbie Black in her glassed-in studio makes a few changes to a painting of the driveway to her rural house.
Virginia Culbertson shows off a painting in progress, a palmetto tree based on a photograph taken by friend Pamela A. Cook, a member of Chicks That Flick.