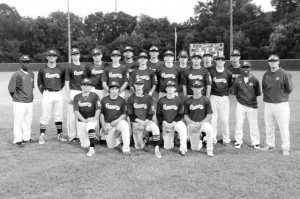 A few weeks ago we published a column spotlighting a number of our Strom Thurmond baseball players who are spending this summer with The American Legion Post 20 Senior Baseball Program. This week I discovered that there are four more of our guys contributing to the American Legion summer baseball league at the junior level. Jared Bass, Lakelan Rutland, Payton Smith and Jud Childress are getting a lot of positive attention for the baseball talent they are demonstrating on the junior team at Post 20 in Greenwood. The junior Braves have made it to the state championship series for the first time ever this season.
Coach Di'Markus Sanders had nothing but good things to say about the quartet of Rebels contributing to the success that his team is experiencing. "They have been well coached, all are good athletes, they hustle and they step up when needed'" were just a few of his complements.
Strom Thurmond's baseball coach, Mack Hite, tells me that Lakelan and Payton will be sophomores next year, Jared a junior and Jud a freshman. He went on to say he had been keeping up with them and their significant contribution down the stretch this summer in the success Post 20 was enjoying. "I am very proud of them," declared the Rebel Head Coach.