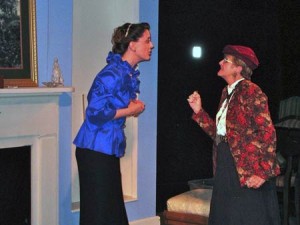 Blithe Spirit, a Noel Coward comedy of manners and social interactions of the mid 20th century, holds much entertainment for those attending. The play being produced in the theatre at the Discovery Center is a surprise for all since the staging is changed to "in the round."
Kudos to those who staged this play! Scene construction was done by Kenneth McCormack (the director) and Daniel Burkett. It is a convincing upper middle class living room with all the accouterments for entertaining – such as the crystal mixer and glasses for martinis; a handsome sofa covered in brocade to match the allure of the satin and lace of the hostess Ruth (Mrs. Charles Condomine, played by Beth Ansede) and her guests. Very proper in all respects, the actors and actresses show restraint in their language and manner, except for the two more comical characters, Mme Arcati and the maid Edith. They keep the show moving
Excellence in costuming and make-up is the blithe spirit herself. Kristin Castillo as the late Mrs. Charles Condomine (Elvira) wears a peach peignoir set, elegant and appropriate in color. Her auburn hair and pale, china-doll skin (was it the make-up or does she have such English good looks?) were enhanced by her gossamer gown, with lace sleeves and flowing top. The paleness of both the gown and her skin was affective in giving this "spirit" an ethereal look. She flowed through the window curtains, not seen at first, and was there to bring trouble to Mr. Condomine, handsomely attired in black tie (played by Dave Engelman).
The guests for the evening, to participate in a séance with a guest medium, are husband and wife in real life, Linda and Chris Clancy. They play the roles of Dr. and Mrs. Bradman, comfortable in their roles and adding spice and comedy with their lines. Having a doctor in the house is an added feature.
Of course Madame Arcati, the medium who congers up spirits, enters with gusto and sharpens the wit into a comical performance. Played by ever-favorite Debbie Fryer, she is supposed to be entertainment but she turns into troublemaker. The maid, played by Savannah Faulkner, is a foil for the proper host and hostess as she often clumsily handles her job, quickly returning to the almost invisible actions of the parlor maid.
A classic and a delightful change from the usual comedies shown in the Bouknight Theatre, Blithe Spirit is worth seeing, probably a way to reawaken memories of theatre as it was known before the 60s.