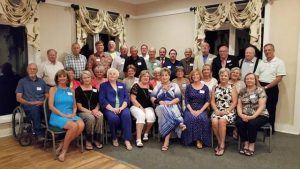 The Strom Thurmond Class of 1970 held their class reunion Saturday, July 25, at Pine Ridge Club. Thirty-one members out of a class of 90 graduates attended.
Front Row (L to R) Sharon Wall, Gladys Miller Spires, Cheryl Miller Long, Linda Bryan Ballentine, Sylvia Quarles Billue, Duane Nicholson, Brenda Ellis Doolittle, Annie Gibson Stokes Row 2 – Josie Holsomback Widener, Pam Osborne Booker, Carter Rainsford Costigan, Dianne Stillwell Speight, Carol Covar Casella, Jayne Mobley Rainsford, Mary Vann
Guys: Benny Winn, Hugh Morgan, Ed Satcher, Randy Bryan, Charlie Speight, Randy Yonce, Frank Reece, Robert Reel, Richard Dillard, Carlos Brown, Frank Davis, Edgar Lamb, Brannon Rowland, Kenneth Moseley, Larry Morgan, William Matheny.