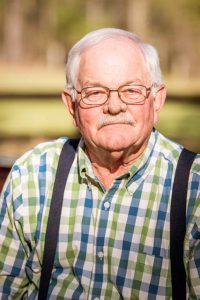 Sitting with Buck Asbill, awaiting the arrival of his book named for his column of ten years, "Ramblin' 'Round," the Advertiser opened the door with questions in order to learn about Buck Asbill as writer, teacher, philosopher, humorist and raconteur. The book is scheduled to be launched from his hometown of Johnston in August 2015, and is likely to be a book selected for most homes in this area. Why? Because "not many in this area, dead or alive" (according to Buck), are not in the ramblin's of this author.
The first revelation that came in this conversation, about when the author first knew that he would become a writer, was that he had never written other than class assignments in school (high school, undergraduate and graduate), and his writing began when he started writing for the Advertiser in 2003. The following was his comment, speaking from his world of teaching writing: "The many teachers [of writing] I know are not writers. As one of them once said, 'I cannot write but I know how it should be written.'" Here he is talking about knowing the rules. Buck said he has always told his students, "You have to know the rules before you can break them." And it follows that one does break some rules in the course of writing, especially in his style of writing.
He continued, giving an idea as to what his style would be called – "conversational and informal"—and in that style rules are broken, such as with the incomplete sentences one finds in the best of writers. Thoughts are often expressed in incomplete sentences
Known as a grammarian, among his many talents, when Buck first started writing he was put on the spot by former English teachers – in search of why he used certain forms of grammar. "There was always someone there to hold my feet to the fire on word usages. Mrs. Caroline Knight stopped me one day and asked if I would come by her house and talk to her about my use of who and whom." Buck said he did stop by the following week!
The conversation continued around those two words, who and whom, and Buck noted that he told his daughter Courtney, once: "The TV show is 'Who do you trust?' Now tell me, who in this world would go for the show if it were called "'Whom do you trust?'" As a practicality, one breaks the rules for popular demand. One thing for sure, a teacher of grammar knows when he breaks the rules.
"Louise Cullum Crouch used to ask me about my columns, saying 'Where in the world do you come up with ideas each week?'" He answered for the press, "It just happens, something in the media [will trigger an idea] or someone will say something." And, so, those ideas seldom failed him. It was rare for Buck Asbill, during 2003 and 2013, to call and say there would be no column that week.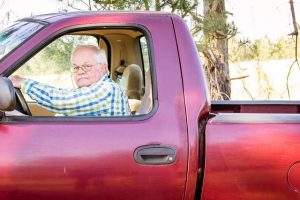 It is hard to talk about Buck Asbill without talking about the "New Newspaper." Buck was supposed to write the Johnston News when the "takeover" happened for the new newspaper and the former editor retired. His writing Johnston News never happened. His first article was "dark and serious," not at all his style. Neither was community news, what he was asked to write. As he said, he could never imagine anyone coming by and stopping him on his tractor to give him news for the paper.
Among his many philosophical and humorous comments were some about the English language, how the English language holds new phrases, appearing with each new generation. Take for instance the one which is the collapse into two words, "What's up?", of a much longer thought: "What is going on in your life at the present time?" Two other such phrases, "brown nosing" and "kissing up" were more school related. And he turns these phrases into delightful articles.
Another article was when he wrote about family pictures, that each should have "something meaningful" written on the back. He took the idea for this article from finding a family portrait of his grandfather pictured among chickens. On the back there was just the word "chickens." "Imagine a hundred years from now finding the photo, not knowing who the old man was, but having an identification of 'chickens.'" (Unless of course in 100 years there is some hybrid chicken that changes the look of an animal group humans know well.)
And what about his family? One certainly finds them in this book. What was their reaction to his writing "going public"? There are many times folks read about his wife's (Nancy) reaction to something or her grumbling about a happening, And did she, really? It led to Nancy, his son Sims, and daughter Courtney suggesting in family conversation: "This is not for the newspaper" and "I don't think I would write about this." These admonishments were not always heeded.
As for how true his stories are: "The article almost always starts with the truth. . . " (from his book cover).
Ramblin' 'Round will soon be available to the public through local businesses and the Asbills, themselves.