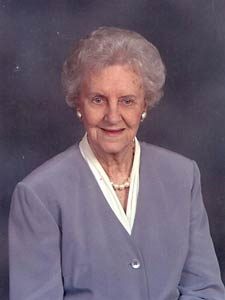 COLUMBIA, S.C. – Graveside Funeral Services for Mrs. Mary Gavin Edwards, age 96, will be held at 2 o'clock on Friday, August 14, 2015 in Mt of Olives Cemetery, Johnston, SC.   Immediately following the service, the family will receive friends in the Social Hall of First Baptist Church, Johnston.
Mrs. Edwards, a native of Sanford, NC and widow of Van E. Edwards, Jr, died Tuesday, August 11, 2015. She was a daughter of the late Edwin Lee and Mary Caudle Gavin. Mary was a graduate of Meredith College in Raleigh, NC.   After her marriage to Van Edwards, they moved to Johnston where Mary was very active in the community and in Johnston First Baptist Church. She sang in the choir for 63 years, was a member of the Frances West Circle and Gleaners Sunday School Class.    An avid Carolina fan, she had season tickets on the 50 yard line for 65 years. Mary was a loving mother, grandmother, great grandmother and a friend to many.
Survivors include children: Patsy Black (Henry), Vannette Wells, Van E. Edwards, III (Bettie), Karen Kalutz (Ted), and Robert G. Edwards (Jenifer); twelve grandchildren and twenty great grandchildren.
A Memorial Service will be held at 3 o'clock on Monday, August 17, 2015 at the Chapel of the Holy Spirit, Still Hopes Retirement Community in West Columbia, SC.  The family will receive friends following the service.
Memorials may be made to Johnston First Baptist Church, 700 Church Street, Johnston, SC 29832 or Still Hopes Resident's Assistance Fund, Still Hopes Retirement Community, 1 Still Hopes Drive, West Columbia, SC, 29169.
Bland Funeral Home Funeral Home, Johnston, is assisting the family with arrangements. Please sign guestbook and send condolences to family at www.blandfh.com.