In a letter from the Edgefield County Hospital Board (signed by Board Chair Connie Sutton and Personnel Committee Chair John Pettigrew) the following statements were made available to the ECH employees and the press, on Wednesday morning, July 29.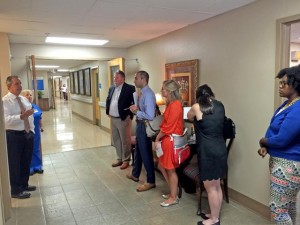 "We are pleased to inform you the BOT took action at our July 27 board meeting to appoint Carlos Milanes as CEO for Edgefield County Hospital effective immediately.   As you know, Carlos joined us on April 20, 2015 as Interim CEO.  This appointment has proven to be a great mutual fit, and we agreed to make his role permanent.  His performance during the first three months as Interim CEO demonstrate his ability to establish positive working relationships with physicians, employees, BOT and community leaders. Feedback has been very positive, and with his leadership we are increasing volume and bringing more specialty providers to ECH.  We are fortunate to have someone with Carlos's level of experience and connections to the healthcare community to be our CEO.  Carlos is excited about working with all of you, and it is a privilege for the BOT to have him as our CEO."
For the press, Ms. Sutton stated the following.
"I am pleased to share the ECH BOT voted to confirm the appointment of Carlos Milanes as CEO for Edgefield County Hospital effective July 27, 2015. This matter was voted on after Executive Session at our July 27 meeting. Carlos has demonstrated exceptional performance during his ninety days as Interim CEO, and we have all agreed we want this employment relationship to continue."