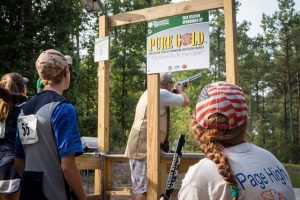 EDGEFIELD, S.C. — The National Wild Turkey Federation welcomed more than 400 competitors and their guests to the new Palmetto Shooting Complex at the NWTF for the annual Turkey Shoot sporting clays competition. More than 25 percent of the competitors were under the age of 21.
"Since the first event in 1994, the Turkey Shoot has been popular because of the prize structure and an atmosphere that is welcoming to youth and new shooters," said NWTF CEO George Thornton. "It is common to drive around the sporting clays course and see elite shooters giving pointers to youth participants."
Master Class shooter Brandon Powell, a professional shotgunner and shooting instructor from Georgia, received High Over All honors for the fourth straight year and still had time to offer coaching advice to youth competitors.
"The youth are the future of the sport," he said. "I think we need to pay more attention to the younger crowd and help them out, so they stay interested and continue shooting."
Youth attending the shoot received registration discounts, and the MidwayUSA Foundation provided endowment grants to all organized youth shooting teams that participated in the 200-target main event.
Through programming and events like the Turkey Shoot, the NWTF is working to create new hunters and recreational shooters. The vast majority of conservation efforts across the country are driven through the sales of hunting licenses and excise taxes on firearms and ammunition.
The NWTF Turkey Shoot is more than 20 years old, but this was the first time the event was held at the Palmetto Shooting Complex in Edgefield. The state-of-the-art shooting facilities will open to the public on October 1 and offer sporting clays, trap and skeet.
The Palmetto Shooting Complex at the NWTF was made possible, in part, through a $2 million Pittman-Robertson Wildlife Restoration grant from the South Carolina Department of Natural Resources and the U.S. Fish and Wildlife Service.