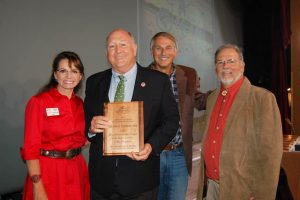 In recognition of his dedication to preserving our hunting heritage and furthering conservation efforts, National Wild Turkey Federation CEO George Thornton received the first-ever American Outdoorsman of the Year award by Garry Mason's "Legends of the Outdoors."
NWTF spokesperson and 2003 "Legends of the Outdoors" Hall of Fame inductee Brenda Valentine presented Thornton the award at the recent annual induction ceremony in Nashville, Tennessee.
"To be singled out by your peers is special. I'm deeply honored to be recognized by the "Legends of the Outdoors," Garry Mason and the board," said Thornton to the room full of outdoor industry professionals.
Thornton has served as CEO of the NWTF since June 2008. Under Thornton's leadership, the NWTF has signed memorandums of understanding with several other conservation organizations, wildlife management agencies in every state and federal agencies responsible for forest and wildlife management.
The NWTF also launched its Save the Habitat. Save the Hunt. initiative and began construction of the NWTF Hunting Heritage Center and Palmetto Shooting Complex. The initiative and accompanying facilities will help solve some of the biggest issues facing the outdoor industry today – decreased hunter participation, and loss of wildlife habitat and places to hunt.
"The Legends of the Outdoors is very proud to honor a great American conservationist," said Garry Mason, "Legends of the Outdoors" founder and executive director. "George Thornton has for the better part of his career, worked diligently to make the outdoors a better place not only for the outdoorsman but for the wildlife in which he is so very passionate about. It is with great pleasure that we honor such a man as George."