Press release from Old Edgefield Genealogical Society.
The Old Edgefield District Genealogical Society and Edgefield Civic League are hosting the "Southern Studies Showcase" in Edgefield on September 18 and 19, 2015. Twenty-two workshop classes will be held over the course of the two days, with local and out-of-town speakers giving lectures on a variety of topics. The speakers and their lectures include Judi Dudley Romeo and Carolyn Miller, So You Would Like to be a Daughters of the American Revolution Member?; Dr. Ehren Foley, National Register of Historic Places and Historical Markers; Keith Stephenson, Reconstructing Hawthorne: A Former Community on the Savannah River Site; Karen Stokes, South Carolina Civilians in Sherman's Path and The Immortal Six Hundred: Surviving Civil War Charleston and Savannah; Bernice Bennett, DNA Research; John Smith, Family History Research at Winthrop University: the Louise Pettus Archives & Special Collections and Records and Reconstruction in North Carolina, 1865-1870; Steven Rauch, Major General Thomas Pinckney and the War of 1812 in Georgia; Authors Panel Discussion, Overcoming Hurdles in African-American Research; Dr. Timothy Drake, General Andrew Pickens: Soldier, Partisan, Patriot, and Statesman; Dr. Stefan Wiecki, Francis Salvador: The Paul Revere of South Carolina; Tim Lord, North American and South Carolina Native American History – 14,000 years; Kim Poovey, Victorian Mourning Rituals and Funeral Practices; Carolyn Curry, Suffer and Grow Strong: The Life of Ella Gertrude Clanton Thomas, 1834-1907; Dr. Julian Mims, Dark and Bloody Ground: Edgefield During Reconstruction; Corinne Hoch, Castle Williams: If Round Walls and Gray Ghosts Could Talk, These are the Stories They'd Tell; Virginia Strickland, "Enjoying Your Ancestors" – Creative ways to use and share your family story; Aliene Shields, Stitching Through Time – The Role of Sewing Throughout History; Dr. Vernon Burton, Penn Center and South Carolina's Abolitionist Legacy; Carol Thompson, Gleaning Data From Old Newspapers; and Bob Hester, Slave Songs of Augusta..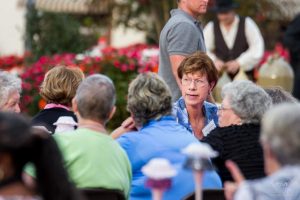 A "Block Party" on the Edgefield Courthouse Square will be held Friday evening from 6:30 p. m. to 8:30 p. m., including a catered Southern dinner by one of the local restaurants and lively music. You need to "speakeasy" because this year the Southern Studies Showcase is taking on Prohibition and the Roaring 20's at the "Block Party." The theme is "Edgefield During Prohibition." Period dress is encouraged (but not required), and prizes will be awarded to the best period costumes. There will be Model A cars, moonshiners and more at this year's "Block Party."
This two-day gathering actually begins on Thursday evening, with a welcoming reception in one of Edgefield's historic homes, sponosored by Edgefield Southern Realty, Inc. On Friday, lectures and workshops will be held from 10:00 a. m. to 4:45 p. m. On Saturday, speakers and workshops will be held from 9:00 a. m. until 4:00 p. m. Time will be allotted on Friday and Saturday for lunch at local restaurants, shopping with local merchants, and visiting of local historic and tourist sites.
There will also be a kiln opening by Old Edgefield Pottery on Saturday from 8:30 a. m. to 10:00 a. m., a tour of homes on Friday, a tour of Willowbrook Cemetery on Saturday from 1:00 p. m. to 2:00 p. m., and other special events scheduled during the Showcase to further highlight Edgefield. The Registration fee for the Southern Studies Showcase is $30.00 until September 11th and includes the "Block Party" Friday night. After September 11th, the fee is $40.00.
If you have any questions or concerns, please contact Tonya Guy at 803-637-4010 or OEDGS85@gmail.com. For more details and a schedule of events, please visit the OEDGS web site at OEDGS.org.