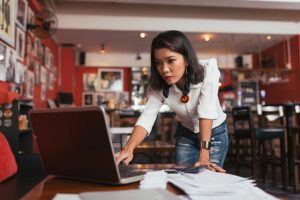 (StatePoint) Only half of U.S. small businesses survive more than five years, according to the U.S. Small Business Administration. This data underscores that small business ownership is no cakewalk.
Beyond the classic entrepreneurial challenge of making and sustaining a profit, small business owners now struggle to find time and resources to adapt to new technology, say experts.
"The pace of technological development is as staggering as the ever-changing ways that consumers engage and utilize it. To stay competitive to consumers and to employees, small businesses need to adopt and incorporate online technology into their everyday business operations," says Seong Ohm, senior vice president of merchandise business services at Sam`s Club.
To help entrepreneurs navigate new technology and embrace the evolving business operations landscape, Ohm offers six tips for small business success:
• Speed up payroll: New mobile and tablet apps make tedious tasks easier and more efficient. For example, online payroll apps allow employers to run payroll in under a minute, pay workers by direct deposit, and e-file taxes.
• Protect your sales: The latest payment processing technology can better protect your business at the point-of-sale. Businesses relying on magnetic stripe terminals face an October 1 deadline to upgrade terminals to accept EMV chip-enabled credit cards, which more securely protect consumers. To avoid bearing liability for fraudulent credit charges, small business owners can depend on merchant services experts to become EMV chip card-compliant, affordably and without hassle.
• Be visible: Even if your business is centrally a brick-and-mortar operation, the importance of having an online presence cannot be overstated.
It's not enough to simply have a website, you need to be discovered. Google frequently changes the way it determines search results rankings. Invest in search engine optimization (SEO) not once, but periodically, to conform to Google's make-or-break formulas.
A solid social media strategy and mobile capacity for your site will also positively impact your search ranking. Put the marketing books away and lean on digital marketing experts to audit your current online presence and build a strategy that works for your budget and grows your customer base.
• Stay connected: You may be the one pulling the trigger on big decisions, but that doesn't mean you are expected to know it all. Seek advice from trusted industry peers or a local SCORE mentor through LinkedIn and social media. Make time for webinars and networking events. Most importantly, stay connected to friends and family during times of stress.
• Get smart about taxes: Set up a legal entity for your business online. This will allow you to hold on to more of your income and increase your asset and liability protections.
Business taxes can be more expensive and complicated than personal filing, so find an accountant that gets your business. You can greatly benefit from the assistance of online accounting experts. They will help you take advantage of deductions and tax credits and assist you in filing your frequent, varied deadlines on time to avoid penalty.
• Safeguard your data: Small businesses are often targets of identity theft. Create sophisticated passwords to protect sensitive information. Consider investing in a protection service with round-the-clock threat monitoring and recovery support in case of fraudulent activity.
To tap into these resources that will create efficiencies when starting or running a business, visit SamsClub.com/benefits.
Don't let the adoption of new technology overwhelm you. Many of these services are more affordable than you think, are easy to update and offer anytime, anywhere access to experts. These tech tools can swiftly fuel your business operations, streamline processes and save you time and money.