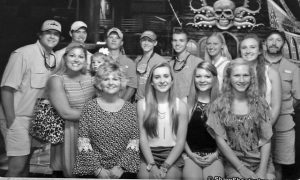 The Strom Thurmond FFA traveled to Cherry Grove FFA Leadership Camp August 4-7, 2015. The group participated in both leadership and physical activities with over 200 FFA members from across South Carolina. The students from Strom Thurmond attending the camp were: Alana Thurmond, Geddings Jhant, Carolyn Barrett Guess, Austin Hall, Andrew Jackson, Hunter Herrin, Gracie Herrin, Bailey Pedersen, Misty Henderson and Scott Sherman. Dr. Darla Steele and Mr. Jeremy Brooks, Agricultural Education Teachers and FFA Advisors accompanied the students.
While there, the students participated in leadership activities and gathered ideas of how to improve the Thurmond FFA Chapter.  Some of these ideas include: fundraising ideas, how to get people more involved and also how to be more organized.  While at this camp some of the activities they participated in were: leadership classes, high and low rope obstacle courses, paintball, kayaking, swimming, beach Ag. Olympics and building a cardboard wagon. The team won for building the strongest wagon!!! Their cardboard wagon held almost 400 lbs!! Way to go!!! They also participated in many nightlife activities including attending the Pirate's Voyage, Broadway at the Beach and a night Deep Sea Fishing Excursion. Beckett Steele, daughter, and Mrs. Becky Simons, Dr. Steele's mother also went along as chaperones.
The students who attended brought back many great ideas and plan to have a successful year. "Camp is one of the activities I look forward to each year with FFA. Paintball is one activity the guys really enjoy," Geddings Jhant, senior FFA officer. The Thurmond FFA will plan to go again next August so students get involved in the FFA and sign-up to be an officer for the 16-17 school year so you can join the group next year!!
For more information regarding the agriculture program at the Strom Thurmond Career & Technology Center, contact Darla Steele or Jeremy Brooks at the career center, (803) 275-1767 or visit the agriculture program website at http://www.stromthurmondffa.com.  Also, like us on Facebook or follow us on Twitter and Instagram.