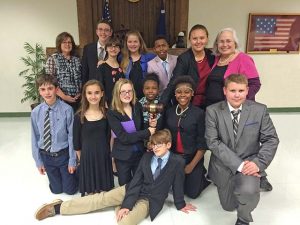 COLUMBIA, S.C. (Oct. 29, 2015)— Merriwether Middle School of North Augusta won the 12th annual SC Bar Greenville Regional Middle School Mock Trial Competition on Oct. 24 at the Greenville County Courthouse. Riverside Middle School of Greer was named first runner-up.
Participating students from Merriwether Middle School included Luke Culbreath, Sam Feyan, Gabe Grucela, Jasmine McCain, Derek Rhodes, Katelyn Roberts, Marissa Sprouse, Lillian Strawn, Madeline Strawn, Brooklyn Thompson, Jada Walker and Skylan Walters. The teacher coach was Paula Shuff, assisted by Denise Jackson, Strom Thurmond High School's teacher coach.
Participating students from Riverside Middle School included Alix Averitt, Erika Brown, Sophie Conrad, Davis Courts, Macey Drye, Eben Ferguson, Eesha Gurav, Olivia Hartzog, Angela Meshreky, Ivana Ramirez, Elizabeth Runion, Margaret Shepard, Logan Simonis, Conner Storch, Brooke Taylor and Kai van den Bosch. The teacher coach was Jennifer Wike, and the attorney coach was Lauren Riga.
Students presented the prosecution and defense sides of a fictitious criminal case before a panel of local volunteer lawyers and judges. Students filled the roles of attorneys, witnesses, bailiffs and timekeepers, and teams were judged on their presentation skills, rather than the legal merits of the case.
This year's fictitious case was Skyler Reed v. 104.4 WSCB Inc. and Cameron Jackson. In the case, radio station 104.4 WSCB hosted the 2015 Music in the Sand Festival. During the event, DJ Cameron Jackson, "DJ CJ," flew a drone over the crowd to record the festivities. During the opening performance, DJ CJ received several emergency phone calls and was forced to step away from piloting the drone. At the same time fan Skyler Reed fell from a trash can and suffered injuries. Skyler alleges the fall was the result of the drone, but evidence suggests the fall may be due to other causes.
Seven schools participated in the Greenville Regional Competition, and 29 schools will take part in the three more regional competitions in Charleston, Conway and Lexington on Dec. 5. The competitions in Charleston, Conway and Lexington were postponed from their original date of Oct. 24 due to flooding, and the state competition was cancelled. This year, winning teams and first runners-up will be selected from each of the four regional competitions.
The Mock Trial Program is sponsored by the SC Bar's Law Related Education (LRE) Division, which was developed in 1976 to improve the ability of teachers to instruct law related education. The program is supported by the Bar's LRE Committee and made possible through a SC Bar Foundation IOLTA grant and the SC Bar.