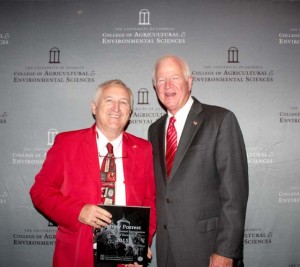 Sept. 29, 2015
Athens, Ga. — The University of Georgia College of Agriculture inducted U.S. Sen. Saxby Chambliss into the Georgia Agricultural Hall of Fame and awarded Jimmy Forrest, a nationally recognized South Carolina peach grower, the Alumni Award of Excellence at the college's alumni awards ceremony and banquet.
Forrest, a 1972 graduate with a double major in dairy science and agronomy, is founder and president of Dixie Belle Peaches, Inc. The farm is ranked the No. 4 peach farm nationally, by "Growing Produce," an industry publication and ranking list. The Dixie Belle brand is carried by U.S. retailers including Ingles, Food Lion, Kroger, Walmart, and other major, northeast retail stores.
Forrest has put Dixie Belle at the forefront of progressive peach production and packing technique. In the 1990s, Forrest was an early adopter of the 25-pound box, favoring its size over the more common, 38-pound box used by southeastern peach farmers at the time. The smaller box — which resulted in less bruising and damage to peaches —was a game-changer in a highly competitive market place that was accustomed to California's use of the 25-pound unit. Forrest also pushed to abandon the practice of sizing peaches with the traditional bar sizer in favor of the ring sizer. This effort leveled the playing field, making measurements of West Coast peaches administered in the same way as measurements of East Coast peaches.
With persistent leadership style and bulldog tenacity, Forrest has been particularly impactful on farm policy and proper execution of ag-related legislation. In 2014, Forrest and family obtained a decision from the federal District Court of South Carolina affirming farmers' rights to compel crop insurers to participate in judicial appeals of Large Claim Review determinations, and their rights to pursue claims against insurers for acts of negligence of crop insurance's RMA of not following policy to verify grower's records through insurance's own appraisals and surrounding growers' production. The decision represents a major win for accountability in the federal crop insurance system.
Most recently, Dixie Belle brought attention to and defended against crop insurance misapplication. Through collaboration with Georgia and South Carolina growers and agriculture officials, Forrest moved the needle. These actions were culminated by his son Matt's persuasive testimony in a congressional hearing to shed light on this faulty practice. This misapplication involved the erroneous classification of peach trees as downward-trending and alternate-bearing perennial crops — cost regional peach growers hundreds of thousands of dollars in lost revenues and resulted in a 2014 congressional mandate against such action.
Forrest, after finishing Saluda High School and showing cows in 4-H and in Future Farmers of America at state fairs, thumbed back and forth to Athens for the first two years and then graduated in 1972, in 3 ½ years. He served on UGA's Ag Hill Council and was president of the university's Dairy Science Club. In 1978, he was named "Soil Conservationist of the Year" and, in the 80s, he served as a Saluda County soil commissioner. Forrest was also vice president of the South Carolina Peach Council.
Before leaving Athens, Forrest briefly considered pursuing a job offer from UGA in dairy science research in Tifton, Georgia. Ultimately, he chose to move back home to Saluda County where — in the 1980s — he converted a 1,000-acre, row-crop farm with 40 acres of peaches crippled by embargos and depressed world market commodity prices into 2,600 acres of peach orchards over Saluda, Edgefield and Aiken counties. The farm employs some 250 laborers during peak season.
Forrest has been married for 42 years to the former Vivian Clark of Ward, South Carolina. Together, they have a daughter Amy, two sons Matt and Clark and four grandchildren. Forrest served nine years on the school board where his children attended school. He's a member of Ridge Spring Baptist Church and has served as a church deacon.
The University of Georgia College of Agriculture Alumni Association Award of Excellence recognizes alumni who have achieved excellence in their chosen field and/or in their community. The college is one of the oldest and most-respected U.S. colleges of agriculture.