– By Tiffani Ireland –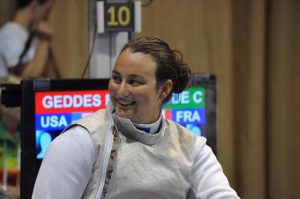 November 6, 2015 – United States of America Fencing Team member Ellen Geddes of Johnston won the gold medal in wheelchair fencing at the North American Cup, an international fencing event held in Richmond, Virginia, Sept. 18-20 of this year. Geddes beat the Canadian National Champion to win her gold medal in the discipline of foil fencing. In addition to her gold, Geddes also took home a silver medal at the competition in epee fencing.
Twenty-seven year old Geddes, who is originally from Aiken but has called Johnston home for the past five years, took up her career in fencing shortly after a 2011 motor vehicle accident that left with a spinal cord injury and confined to a wheelchair. Geddes shared that while doing rehabilitation after the accident at the Sheppard Center in Atlanta, Ga., she "happened upon" the center's wheelchair fencing team one day. Shortly thereafter, she joined their team, and a fencing champion was in the making.
While she is still a member of the Sheppard team, Geddes also fences with the Augusta Fencers with whom she does most of her training now. Rudy Volkman with the Augusta Fencers is the coach she uses most often. She trains 4-5 days a week on fencing alone, averaging about 10 hours a week specifically working on fencing skills. In addition to that, Geddes spends about 30 minutes a day working on cardio and does weights for about an hour each day.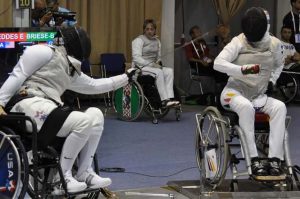 You would think with the time she devotes to fencing, Geddes would not have much time for other pursuits. You would be wrong. Geddes also competes in dressage, an equine event in which horses are guided through a series of complex maneuvers by slight movements in the rider's hands, legs, and weight. In fact, Geddes runs a farm from her Johnston family home where she raises dressage horses and gives riding lessons. She maintains about 7 riding students year round but says that number grows in the summer months. Her farm currently boasts 9 dressage horses which are mostly shown in events across the Southeast. Geddes' personal dressage horse has been out of competition for a while due to foaling earlier this year. However, Geddes expects to be competing with her again in the near future, possibly as early as late winter.
As for her fencing competitions, Geddes will next compete in Sharjah, near Dubai, right before Christmas. Geddes is currently the highest ranked American in the International Wheelchair Fencing organization in both foil and epee fencing; 25th and 23rd respectively. Geddes says she does not keep up with her ranking (The Advertiser had to look on the IWASF website to access her ranks), however, she knows she must continue to compete to earn points that will hopefully secure her a spot on the 2016 U.S. Olympic Team. As to her chances of representing her country at the next Olympics, Geddes said, "I'm certainly on track to be able to go to Rio."
Geddes is the daughter of Jim and Anne Geddes. To follow her progress in her fencing career, please visit www.iwasf.com.
The Advertiser wishes Geddes good luck in her quest to make it Rio de Janeiro, Brazil for the 2016 Summer Olympics. We hope to be able to report on Geddes' Gold once again.