CLEMSON, S.C. – November 5, 2015  — A month after historic rains flooded South Carolina, farmers remain washed out of fields during a critical period for harvesting and winter planting.
Rainfall topped two inches in parts of the Upstate, Midlands and Pee Dee last week, according to the S.C. Climatology Office, and more rain is coming. On Wednesday, flood warnings from the National Weather Service were in effect in parts of the Midlands, Lowcountry and Pee Dee regions. Forecasts through the weekend show rain likely throughout much of South Carolina.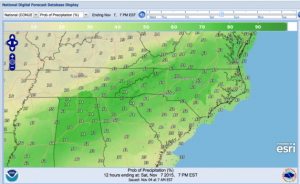 "The bottom line is you can't get in a field right now. If you get off the pavement, you're in trouble," said Clemson University Extension agent Charles Davis.
Farmers in Calhoun County were able to harvest peanuts just three days last week and some crops were of low quality due to early October's flood, he said. Crops already had been stressed by summer drought that preceded the flood.
Forecast rain will further delay harvesting that is already behind schedule and likely prevent farmers from planting winter wheat as well, Davis said. Winter wheat production was valued at $74 million in 2012, according to the latest data from the National Agricultural Statistics Service (NASS).
In Clarendon County, one of the area's hit hardest by October floods, many farm-to-market roads remain closed and dirt farm roads are impassable, said Clemson Extension agent Hannah Mikell.
Parking lots sit empty at peanut processing facilities, she said.
"No one is harvesting. I would say a very, very small percentage has been harvestable, even if they could get to it," she said.
When the sun is shining, farmers' top priority is to salvage as many peanuts as possible because they're valued above cotton, Davis said. South Carolina produced more than $91 million in peanuts last year, NASS data shows.
"Our yields are down significantly," Davis said.
About half of peanuts had been harvested in South Carolina as of Monday, according to data from the U.S. Department of Agriculture. Typically, 86 percent of peanuts are harvested by now.
Many peanuts that had been dug had fallen off vines before they could be harvested because plants had become so brittle from flooding, Mikell said. Disease and mold are also concerns given the soggy conditions.
Regrowth and sprouting have degraded cotton quality and seed value. Like peanuts, cotton is falling off plants before it can be picked. Value has deteriorated to the point that some growers may not spend money to defoliate fields and harvest cotton at all, Davis said.
"The grades on cotton are just bad and there's nothing we can do about it," he said. "If you don't have at least 300 pounds per acre, you don't even cover the cost to harvest."
South Carolina's cotton sales topped $213.8 million in 2012, including both lint and seed, according to NASS data.
"You want cotton to look like a cotton ball," Mikell said. "Right now. It's trashy. It's rotten. It's molded."
Vegetable crops also have been devastated, she said.
Pending rains are concerning to late-season soybeans that will be maturing this month, said Extension agent David DeWitt. Those crops will need to be harvested quickly, weather permitting, so they are not susceptible to stress from mold and disease, he said. He said peanuts harvested in the Sumter area have been of good grade. The problem is yields have been reduced significantly.
Financial losses will cut into farmers' ability to invest in next year's crop with fertilizer and pesticide, he said.
"It's one thing to survive a year like this, it's another thing to have the capital to invest in next year's crop the way you'd like to," DeWitt said.
Additionally, floodwaters likely stripped soils of nutrients needed to feed next year's crops. Farmers should collect soil samples when fields dry and submit them to their local Extension offices to be analyzed for nutrient content, Mikell said.
"I will never say it can't get any worse. After this summer's drought, I think a lot of us said that," she said. "We were wrong."