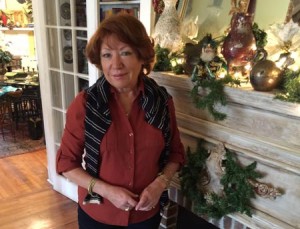 Pamela Moore's purple fence around her house created a little stir years ago when she came to live in Edgefield. She knew she would be forgiven such an unusual "appointment" because she was and is an artist. That purple fence followed her as she moved from retail business, theatre promoter, then owner of an entertainment hall – a place for musicians to perform — which became known as "The Purple Fence." Yes, businesswoman in all this, but always the artist. Now she is back to her art fulltime.
Pamela, after closing "The Purple Fence," went on a journey to get back into herself, the creative part. "I was not being my creative self (while in business) and missed the struggle of trying to figure out how to give movement to a painting's background, or how to give spontaneity to a painting. Whether painting a ceramic or a piece of furniture, there is a huge struggle and I had missed it and had that need for such a struggle – it is almost like an addiction."
In a way, Pamela took leave from the public and spent some months in which she says: "I learned my house again. And I took long walks with my dogs, and even taught my parrot new words."
This parrot is conversant on many subjects and sings along with recordings by Mario Lanza — and with vibrato, the writer heard — believe it or not. And it knows some of Pamela's secret loves, in music anyway.
Self reflection was one of the themes of Pamela's few months away from business, but she never stayed away from the art. She found renewed energy in studying Pissaro, one of her favorite painters, and other greats, learning their colors and their designs. She did much of this with computers – she works off an Apple and a PC.
As someone who loves the dramatic, having attended Opera with her grandfather when she was young, her work reflects this dramatic interest.
Her new work includes more portraits, with new background style. She says she is using softer colors and working to bring more movement to what is a flat object (a painting). She has done this through on-line courses, reading and more reading, bringing home books on subjects relating to her search.
The result is the lovely paintings found in the ads seen recently in this newspaper. And there will be more to see over the next few weeks.
Pamela's house (the gray one surrounded by the purple picket fence) is filled with beautiful art objects, two parrots, dogs and many, many plants, all of which may make their way, somehow, into her future paintings, even if in the background.