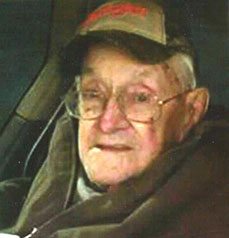 RIDGE SPRING, SC- Mr. James Marion Rauton Sr., age 94, passed away Monday, December 21, 2015.
Mr. Rauton was born at home in Ridge Spring, SC where he has been a life-long resident and farmer. He was a member of Mt. Calvary Lutheran Church and enjoyed going to the Farmer's Market, gardening, and traveling to the mountains. Most of all he loved his wife, children, and grandchildren, and great-grandchildren dearly.
He was preceded in death by his parents William and Maggie Lybrand Rauton; an infant daughter, Janet Marie Rauton; a step-daughter, Linda Richardson; a great-granddaughter, Leagrace Rauton; three brothers, Carl, Ray, and William Rauton; and a sister, Willia Mae.
He is survived by his wife of 46 years, Virginia Ashley Rauton; a son, James Marion "Jimmy" Rauton Jr., (Robin), Ridge Spring, SC; three step-children, Sammie Richardson (Marie), Patty Herron (Lester), and Ann Richardson; fourteen grandchildren, fifteen great-grandchildren; and five great-great-grandchildren.
Funeral services will be held at 2:00 PM Sunday, December 27, 2015 in the George Funeral Chapel. Pastor Robbie Sharpe will officiate. Interment will follow in Aiken Memorial Gardens. Pallbearers will be Anthony Rauton, Trevor Herron, Keith Herron, Paul Davis, Andy Crumpton and Jeff "Bulldog" Ledford. Following the services, family and friends are invited to the home of Anthony Rauton (716 Spann Rd., Ward, SC 29166) to celebrate the life of James Marion Rauton Sr. Any further questions; you may contact Anthony Rauton at (803.480.5655).
Memorial contributions may be directed to the American Cancer Society, 128 Stonemark Lane, Columbia, SC 29210 or the Make-A-Wish Foundation, 225 S. Pleasantburg Dr., Greenville, SC 29607.
There will be a visitation this Saturday evening from 6:00 until 8:00 PM at the Historic George Funeral Home, 211 Park Ave., SW, Aiken, SC 29801 (803.649.6234).
Expressions of sympathy for the Rauton family may be left by visiting www.georgefuneralhomes.com