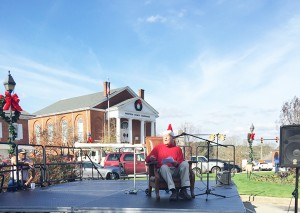 On Saturday past, the second weekend of Christmas events in Edgefield, music and poetry rang out over the square. Music even went down Main Street, as the Springfield Church Children's Choir serenaded customers and shop keepers with Christmas tunes.
Later the Springfield Children's Choir performed on stage, along with the W. E. Parker Choir. (Someone critiquing WEP Choir said they sounded so good they thought they had a recording of voices behind them—of course not true)
In the restaurants there were special voices singing carols and songs of the season. Tiffani Ireland accompanied by Jason Rushton of Johnston gave customers at Park Row a chance to sing along also. At Delectable Delight, a group from over Johnston way – Lisa Hart, her grandchildren (Hunter, Abbie and Rebecca Derrick), and Frances Quarles (Johnston Town Administrator) – lent their voices as a team.
It was after lunch when the Poet Laureate of Edgefield, Laurel Blossom, joined by Hal Irish and the Youth Poet Laureate, presented some old favorites including the "Night Before Christmas."
And not-to-forget the dancers from Timmerman Dance Studio of Edgefield. From age 2 to high schoolers they danced on the pavement to the Nutcracker and other Christmas tunes.