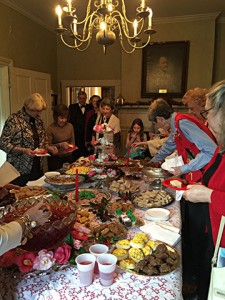 There was a large attendance at the 2015 Tour of Churches on Sunday past. Young people and adults from the church communities participated as actors in tableaux (non speaking vignettes) in the four churches – St. Mary's Catholic, First Baptist, Trinity Episcopal and Edgefield United Methodist. These tableaux presented to the audience the characters in the story of Christmas while the ministers read scripture telling the story. Music enhanced the story, as it always does at Christmas. Among the pieces was "Ave Maria" was sung at St. Mary's; "Mary Do you Know" was sung at EUMC.
The Baptist Church provided a bus that transported those who were not able to walk from church to church. Following the presentations in the churches, a reception was held at Magnolia Dale, hosted by the Edgefield County Historical Society. An elegant and bountiful table was set with a crystal punch bowl full of crimson punch and numerous party dishes. A centerpiece held camellias (which are showing their beauty this season also).
The decorations at Magnolia Dale were more subdued this year– however, though subdued, they held great interest for the attendees. Holly berries and camellias accented the old gold gilding of many Christmas icons (the three kings for example) and favorite items such as the Christmas tree in the library and the Christmas balls under portraits (particularly Mrs. Fox in the dining room, the mother of the past owner before the Historical Society, Mamie Tillman).
A beautiful tradition of more than 20 years, this year Carrie Monday was the director, acting on the part of the Edgefield County Historical Society which sponsors the event.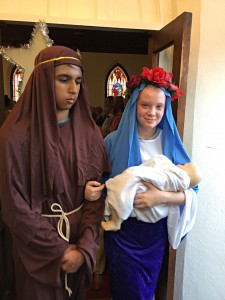 Joseph and Mary as they left the Methodist church.