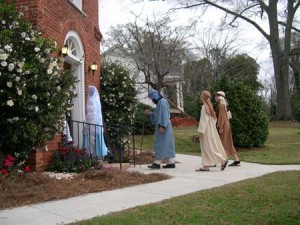 The writer asks: What would the 2015 Edgefield Christmas Season be without the Annual Walking Tour of Churches?
This year's walk is scheduled for Sunday, December 13 at 3 o'clock. This beloved tradition began over 20 years ago and continues to inspire the community during this seasonal event.
The Tour begins at St. Mary's Catholic Church on Buncombe Street where angels relate to Mary the impending birth of the Christ Child. Walkers continue on to the First Baptist Church on Church Street where shepherds begin their journey to find the child.
Wise men carry their gifts at Trinity Episcopal Church on Simkins Street and follow the star that leads them to the child's manger at the Methodist Church on Bacon street. There, the entire walking tour group celebrates the birth of the child with scripture and sacred songs.
Finally the Edgefield County Historical Society, sponsor of this occasion, will host a Holiday Reception at Magnolia Dale on Norris Street following the Walking Tour.
A bus will transport those not wanting to walk the distances between churches. Bus rides begin at St. Mary's Catholic Church.
The public is invited to both the tour and reception. Please call 803-275-7758 for more information.