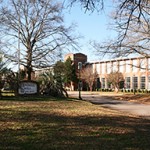 In an announcement given to the Advertiser Tuesday morning, George Thornton, CEO of National Wild Turkey Federation, made the following announcement:
"I am pleased to announce that we have taken another important step in our journey to complete the Master Plan for the NWTF Hunting Heritage and Outdoor Education Center and the Palmetto Shooting Center.
"Today we have acquired the Kendall Mill property in downtown Edgefield. The Kendall Mill is a beautifully restored textile mill dating from the 1890's.
"The Mill is an 85,000 square foot, 2 story structure located on 22 acres. The property is located two miles from the Palmetto Shooting Center and is within walking distance of the Edgefield Village Town Square.
"This facility will provide much needed space for conferences, retail space, indoor archery and various other activities. As we finalize plans, we will keep you updated on planned usage and activities.  The facility will continue to be available to the public for events."
More information about the acquisition can be found in this week's (Jan. 20) print edition of The Edgefield Advertiser.