More than 550 youth shooters descended upon the National Wild Turkey Federation's Palmetto Shooting Complex and the town of Edgefield for the South Carolina Youth Shooting Foundation sporting clays event. With additional visitors numbering more 1,000, this marked the largest participation and crowd ever to attend an event at the 300-acre shooting facility.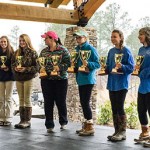 These young women posted top scores in their divisions and took home trophies for their efforts.
(click above photo for larger image)
"Hosting the South Carolina Youth Shooting Foundation sporting clays event was a landmark day for the NWTF, the Palmetto Shooting Complex and our town of Edgefield," said George Thornton, NWTF CEO. "Events of that magnitude are the reason we built the facility [Palmetto Shooting Complex], an affirmation of its quality and also a reminder of the goals we have with our Save the Habitat. Save the Hunt. initiative."
The record 556 youth shooting participants, varying in ages from 9 to 17, competed for trophies in nine divisions based on experience levels from first-time competitors to seasoned veterans. Later in 2016, youth will compete for scholarships and endowments at the SCYSF State Sporting Clays Championship.
The NWTF has taken a proactive approach to fostering growth in the ranks of recreational and competitive shooting, because self-imposed taxes on firearms and ammunition generate valuable funds for conservation efforts. Involvement in shooting sports also is a stepping stone to hunting, a community responsible for the largest percentage of conservation funding in the country.
This was SCYSF's first event at the Palmetto Shooting Complex, and according to state director, Ellie Sellin, it won't be the last.
"The Palmetto Shooting Complex is an absolutely beautiful facility, and we will most certainly be back."
About South Carolina Youth Shooting Foundation
SCYSF believes in creating an environment that is fun, creative and teaches positive life skills to participants through shooting sports. Each athlete receives training by instructors who are passionate about teaching shooting sports. Athletes also can compete in sporting clay events. The South Carolina Youth Shooting Foundation is a nonprofit organization.
About The NWTF Save the Habitat. Save the Hunt. Initiative
The NWTF Save the Habitat. Save the Hunt. initiative is a charge that mobilizes science, fundraising and devoted volunteers to give the NWTF more energy and purpose than ever. Through this national initiative, NWTF has committed to raising $1.2 billion to conserve or enhance 4 million acres of essential upland wildlife habitat, recruit 1.5 million hunters and open access to 500,000 acres for hunting, shooting and outdoor enjoyment. Without hunters, there will be no wildlife or habitat. The NWTF is determined to Save the Habitat. Save the Hunt.
To learn more about the NWTF Save the Habitat. Save the Hunt. initiative, visit www.nwtf.org.