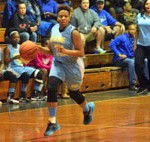 RSM 60 Williston-Elko 29
Lady Trojan Crystal Preston scored 20 points against W-E last week as Ridge Spring-Monetta pushed their record to 9-4 for the season. Crystal and team mate Jania Bussey both had 3 pointers in the contest. Another Lady Trojan, Alexis Smith, had a big nioght as well with 15 points.
RSM 37 North 32
Crystal Preston accounted for 15 of the Lady Trojan's points last Friday in their win over North. Team mates Amber Merritt, Alexia Smith, Dominique Lee and Mykayla Davis scored 6,5,5 and 6 respectively. The Ridge Spring-Monetta women are now 10 and 4 on the season.
RSM 56 Williston-Elko 39
The Ridge Spring-Monetta boys started and ended hot last week taking a 15 to 3 lead over Williston-Elko in the first quarter and wrapping up the win with a 12 to 8 fourth period run. Raekwon Parris was high scorer for The Trojans with 21 points. Team mates Marquis Hopkins accounted for 12, Jonathan Gibson 11, Corey Hopkins 5, Jacari Cummings 3, Marcus Hopkins 2 and Vonte Hickson 2. Marquis Hopkins and Jacari Cummings registered 3 pointers.