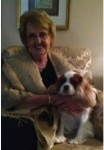 Johnston, SC Funeral services for Mrs. Shirley Rauton Lott, age 82, will be held Sunday, January 17, 2016 in Johnston First Baptist Church at 3 o'clock.   The family will receive friends in the church social hall immediately following the service. Interment will be private. Bland Funeral Home is assisting the family with arrangements.
Mrs. Lott, a native of Johnston, passed away Thursday, January 14, 2016. She was a daughter of the late George and Pearl Rauton. Shirley was a graduate of Limestone College, and taught school for many years in the Edgefield County School System and Wardlaw Academy before retiring in 1986. She was member of Johnston First Baptist Church where she sang in the choir, and was a member of the Fidelis Sunday Class serving as one of the teachers. Shirley always enjoyed her family, friends and her church.
Survivors include her husband: Jack Lott; sons: Neal Lott (Nancy) of Mills River, NC and Michael Lott (Donna) of Barnwell; brother: William Rauton (June) of Johnston; nephew: Bill (Sally) and niece: Patsy; 2 step-grandsons; Matt (Hillary) and Seth (Tina) and 1 step-great granddaughter, Natalee.
Shirley was surrounded by a community of people who loved and cared for her. Their caring support throughout her life and especially during her illness is greatly appreciated by the family.
Memorials may be made to Johnston First Baptist Church, 700 Church Street, Johnston, SC 29832 or The V Foundation for Cancer Research, 106 Towerview Court, Cary, NC 27513
Please sign guestbook and send condolences to family at www.blandfh.com