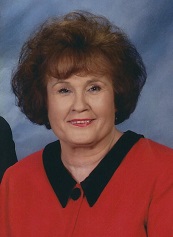 Mrs. Shirley H. Williamson
Aiken, S.C.
Retired Beautician
Mrs. Shirley Herron Williamson, 77, of Aiken, S.C., wife of the late Joseph B. Williamson, Jr., died Wednesday February 24, 2016 at Westwood Extended Care in Evans, Ga.
Funeral Services will be held Saturday February 27, 2016 at 11:30 A.M. at Bethel Baptist Church in Aiken, SC with burial in Aiken Memorial Gardens.
Mrs. Williamson was a native of Aiken, S.C. and was a member of Bethel Baptist Church. She was a Retired Beautician.
Survivors include her daughter, Pamela W. (Robert) Lockamy; 2 Granddaughters, Kelsey and Ella Grace Lockamy; 4 Sisters, Louise Gunter, Adie Widener, Margie (Edward) Ford, L.V. (Coleman) Hatfield. Mrs. Williamson was predeceased by 1 sister, Pansy Grover and 1 brother, Paul Herron.
Memorials may be made to the Alzheimer's Association, 106 SRP Dr. Evans, Ga. 30809.
The family will receive friends from 10 to 11 A.M. before the service at the church.
Edgefield Mercantile Funeral Home is in charge of arrangements.
Please sign the online register book at www.edgefieldmercantilefh.com