The Strom Thurmond CTC (Career and Technology) Sporting Clays Team overcame cold temperatures and gusty winds on Friday February 12th and Saturday February 13th at the Palmetto Shooting Complex in Edgefield to win the South Carolina Department of Natural Resources Youth Trap and Skeet Championship in the Intermediate Trap, Intermediate Skeet, and High School Ladies Skeet Divisions. Strom Thurmond also finished 2nd Place in the High School Ladies Trap Division.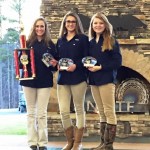 Eighty one squads from twenty one shotgun teams across South Carolina participated in the two day state skeet and trap championships. The teams consisted of shooter divisions in Senior Varsity (11th and 12th graders), Junior Varsity (9th and 10th graders), Intermediate (6th – 8th grade), High School Ladies (9th – 12th grade), and Middle School Ladies (6th – 8th grade). Each division shooter fired 100 rounds at trap on Friday and 100 rounds at skeet on Saturday, vying for team and individual championship awards.
The Strom Thurmond intermediate squad of Colby Martin, Garret Hammond, and Will Hood took the overall championship in trap on Friday and then took the overall championship in skeet on Saturday by breaking 251 of a possible 300 skeet targets. Colby Martin of the Strom Thurmond team took high overall athlete honors in skeet on Saturday, breaking 88 of his 100 targets.
The Strom Thurmond high school ladies squad of Lindsey Glover, Chelsea Glover and Gracie Herrin took 2nd place honors Friday in the state trap event, but then came back on Saturday with a vengeance to take the overall championship in skeet. Eleventh grade squad member, Lindsey Glover had a strong showing Saturday breaking 81 of her 100 skeet targets narrowly missing the high overall athlete honor by just one target.
The CTC team also had two top ten finishing squads in the senior varsity division in both trap and skeet at the championship. These two squads were made up of twelfth graders Scott Sherman and Hunter Herrin, eleventh graders Spencer Moore, Brandon Pugh, and Andrew Jackson, and ninth grader Walker Kelly.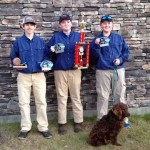 The shooting sports program at the Career & Technology Center continues to grow, said head coach and CTC instructor Jeremy Brooks, "This is a great program for our youth that focuses on the same mission and beliefs as the SCDNR Scholastic Clay Target Program," which is team based youth development that uses the shotgun sports of trap, skeet, and sporting clays to instill life skills such as discipline, safety, teamwork, ethics, self-confidence and other life values.
For more information about the Strom Thurmond CTC team or youth shooting in South Carolina you may contact Jeremy Brooks at the Strom Thurmond Career & Technology Center or follow the Sporting Clays team through Facebook at Strom Thurmond CTC Sporting Clays.