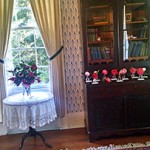 The annual Edgefield Camellia Tea was held on the afternoon of Thursday, February 11, at Magnolia Dale, home of the Edgefield County Historical Society.  The week of the yearly event dawned bleak and cold; the wind blew relentlessly, with an icy edge.  The  "Mid-Winter Afternoon of Beauty," as the Tea is described, seemed threatened by the whims of Mother Nature. The early blooming season this year had produced large and numerous camellia blossoms. But recent hard freezes had slowed that early proliferation in area gardens.  Camellia Club members scampered here and yon under darkened skies in search of blooms worthy of display. Preparations continued.  Miraculously, as if on cue, the morning of the Tea saw the reappearance of calm and bright, winter skies.  Members arrived with bouquets of camellias from some of the oldest, most established gardens in our community, and the finishing touches of color were distributed throughout the historic House Museum.  The entrance hall and each room contained blooms in shades of red, pink, white and variegated as decoration, but also in show-style display.  Tabletops contained rows of single blooms, identified with their names and year of registration.  Categories were distinguished, so that one could learn whether blossoms were classified as old, antique, historic or modern.
Camellia Club Chairman Henrietta Humphreys and others were available to talk with guests about specific blooms.  This bit of academia offered visitors a learning experience, should they wish to follow up with purchase of a particular camellia plant suitable for their garden.  A visitor from Columbia enjoyed examining the pink blooms specifically, as she wanted to purchase a plant with blooms of this color for her daughter's new home!  Another guest from Columbia said that she was astounded at the variety and exquisite beauty of this flower, some large and some smaller blossoms, recognizing that she was falling under the "spell" and lure of growing this plant in one's garden.  The Camellia is well-suited to our climate, for it blooms and endures the ups and downs of Southeastern temperatures, as well as our novice ways of gardening!
The dining room table presented a beautiful and sumptuous tea table.  An exquisite heirloom lace tablecloth provided the backdrop for trays of delicacies from savory sandwiches to tiny cream puffs with chocolate drizzle and a variety of pastries.  Gleaming silver serving pieces and sparkling crystal laid on the intricate lace dazzled and delighted!  Charleston Tea was offered and poured most of the afternoon by Clarice Wise, who is a foremost grower of camellias in this area and who lends her decorating skills to every Camellia Tea.   Sparkling cranberry punch was also offered, served by Helen Feltham. Another visitor commented that the dining room table was truly a "groaning table, offering all her favorite foods in one room"!     The centerpiece, designed by Ann Yonce of Johnston, featured a cherub sculpture on a pedestal.  Flanking this Cupid were silver candelabra holding a mass of red camellia blooms as well as candles. The cherub held only one beautiful camellia in his arm.  According to Mrs. Yonce, this presentation followed flower decorating rules of keeping the display simple with only a few spectacular blooms. The rich, dark greenery of smilax and magnolia leaves lent an elegant touch throughout the home.
Each year the guests who attend represent additional locales.  Visitors last week came from Columbia, Aiken, North Augusta, Augusta, Evans (GA), Greenwood, McCormick, Batesburg and Ridge Spring.  It is especially heartwarming to Club members when local residents and community leaders show their support.  Seen among the large crowd was the newly installed Superintendent of Education in Edgefield County Robert Maddox. He brought along his in-laws!   This unique event is a revival of the Camellia Tea of the 1950s here in Edgefield. While the week's weather began as bleak and windy, Tea Day indeed offered guests a "Mid-Winter Day of Beauty", provided by nature and the loving hands of gardeners, bakers, chefs and decorators for all to enjoy.  Today's social media helped spread the word of this traditional event and, in the words of an out-of-town guest who wrote these words of thanks:    "Thank you so much for the annual Camellia Tea. I've gone to several and each time I'm impressed with not only Magnolia Dale and the camellias on display, but also the hospitality of the Camellia Club members and the absolutely fabulous sweets and savories!"