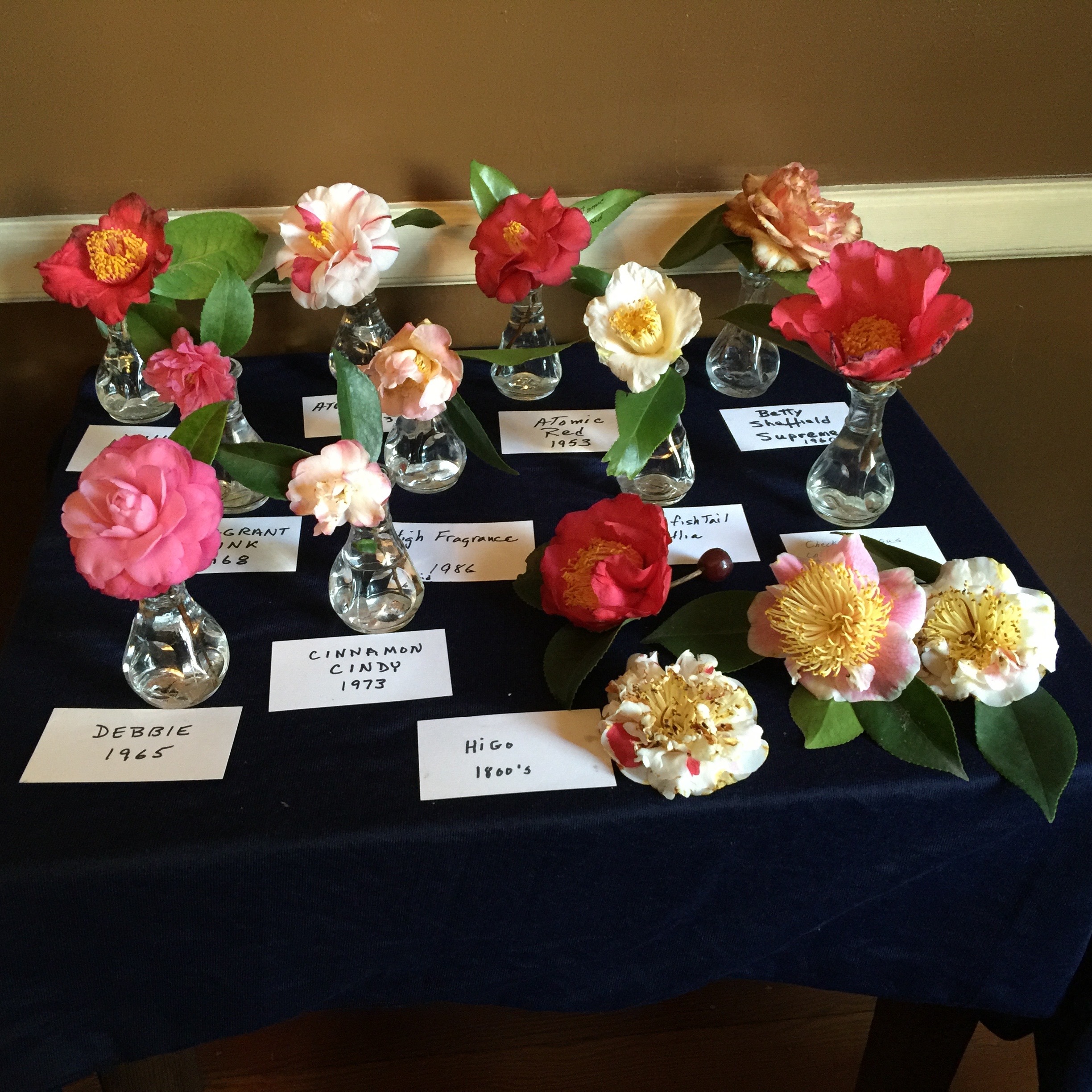 The Edgefield Camellia Club held its annual tea on Friday, February 11, on a day that was sunny and a bit warmer than had been earlier in the week.  In the last several years predicting how the weather will be for the camellias has not been easy.  This year enough blooms escaped the freezing night temperatures to bring color and design to the special event that is a revival of a tradition in the 1950s, the Camellia Tea.
Magnolia Dale, the Historical Society's house museum, is illuminated with color and the reflections of glassware and silver serving pieces on this day.  Club members add their individual party food contributions as well as decorating skills to make the event one of beauty and fine flavors.
A very special centerpiece, done by Ann Yonce of Johnston, graced the dining table that held a lace tablecloth, sheer enough to see the fine patina of the antique table with swirls of needlework to add a lively background for the food and flowers. Mrs. Yonce pointed out that the cherub sculpture centerpiece required, by flower decorating rules, very few blooms – only one in the cherub's arms, and two silver candellabra holding a mass of red blooms. And the table held new and old recipes for canapés, nuts homemade shortbread cookies and hot tea, acknowledged by the pourer, Tricia Glenn, as "Irish tea."
Each tabletop of furniture held lines of individual blooms classified by name and year of naming. This bit of academia is a part of the beauty of such an event – a learning experience for those wishing so, an opportunity to know what is cultivated in this area.
More and more the Tea is attracting guests from outside out county.  However, it is especially heartwarming to the Club when local leaders show their support.  Among those leaders this year was the new Superintendent Robert Maddox.  His in-laws from North Augusta were there as were numerous guests from far and wide.