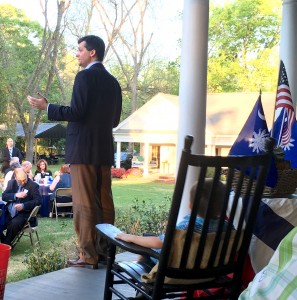 Shane Massey spoke to constituents Monday night, March 28, at a "Shane Massey for Senate" fundraiser held at Harwood, home of Susan and Herbert Yarborough on Main Street in Edgefield.
Seen in the rocking chair of the accompanying photo is Senator Massey's son, Truman. Senator Massey answered questions and thanked the hometown crowd for their support.
The event was well attended by supporters including HOSTS at $500.00; SPONSORS at $250 and Individuals and couples at $75.00 and $150.00.