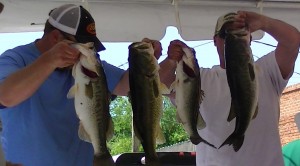 A Favorite is Back! The Fishing Tournament is Part of the Johnston Peach Blossom Festival
Anglers who want to show their fishing abilities can sign up for the 3rd Annual Bass Fishing Tournament, part of the Johnston Peach Blossom Festival.
The Tournament will be held May 7, the same day as the popular Festival. Check-in is at 6 a.m. that day with weigh-in held in downtown Johnston shortly after 2 p.m.
The entry fee is $50 and is limited to 30 boats. This Tournament is pond fishing and for Jon Boats only. There is a 100 percent payback on the five-fish limit Tournament, including a first place prize of $400 and $150 for the largest bass, if there are at least 20 participants.
Entry deadline is May 5.
For a list of rules and to enter, please call Cindy Sullivan, 803-275-2594.