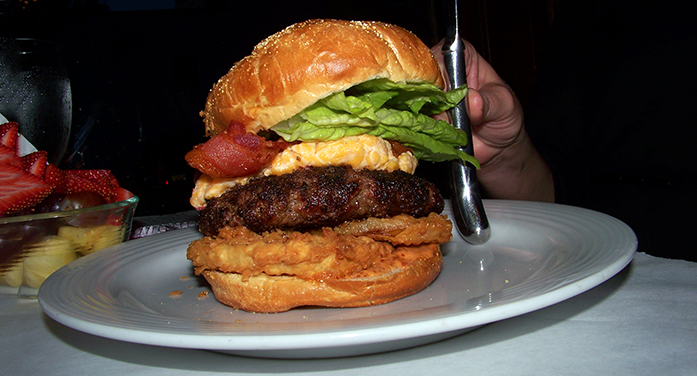 The Advertiser's Culinary Critics: A Series Running also in the Advertiser Print Edition
The Old Edgefield Grill
202 Penn Street
Edgefield, SC 29824
803-637-3222
LUNCH – Tuesday – Saturday 11-2
DINNER – Wednesday – Saturday – Start serving entrees at 6:00 and stop serving at 9:30
HAPPY HOUR – Wednesday – Saturday 5-6 (appetizers served during Happy Hour)
CLOSED – Sunday and Monday
Catering available
A true dining experience – that is the best way to sum up the Culinary Critic's latest adventure.  The Old Edgefield Grill is where one can savor not only the food but the atmosphere as well.  It exudes Southern class and charm.  Set in a two story Victorian style home built in 1906 and shaded in front by large magnolia trees, this upscale restaurant uses the four main rooms on the first floor of the home for serving patrons; the back area is used as the kitchen.  Weather permitting, seating is also available on the large front porch.  In the front room off to the left of the long, narrow entry hallway is a bar area.  This is the only room in the restaurant that disrupts its historical feel, and only then due mostly to the two televisions found in opposite corners of the room.  To describe each of the three dining rooms in detail would take too much space, so we will concentrate on the one in which we dined.  (However, just telling that of the other two one is dedicated to Senator Strom Thurmond and the other to the National Wild Turkey Federation, one can get a sense of their décor.)  We were seated in the front right dining room which is painted a deep red.  On its walls hang various framed pictures.  It holds five to six square tables able to seat four and in the far right corner of the room is a fireplace on which was sitting a large floral display.  Dark hardwood floors accented by large area rugs are present throughout the restaurant, and a mixture of jazz and golden oldie tunes drifts through the air.  Large uncovered windows allow plenty of natural light into the rooms which are also lightly lit as night time falls.  Each table is covered by a white linen tablecloth over which is a protective white sheet of parchment type paper.  On the tables rest ready wine glasses as well as ornately folded black linen napkins.  The look of all three dining rooms is both sophisticated and inviting.
The set up of The Old Edgefield Grill is such that it is intimate and romantic yet lends itself comfortably to conversations with fellow patrons.  It can be as private or as open as one wants to make it.  We met a charming couple from Aiken who was dining at a nearby table.  We enjoyed getting to know them as we waited on our meal.  However, when they left, we had the room to ourselves and enjoyed quite a lovely, romantic meal together.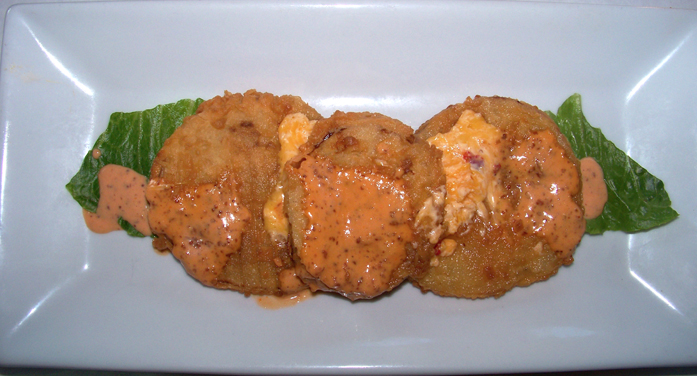 Before we go on any further, let us set a few things straight.  While the Culinary Critics did enjoy getting all dressed up to go to The Old Edgefield Grill, casual attire is quite acceptable.  However, weekends do see the dress code stepped up a bit.  In addition, reservations are appreciated, as seating is limited, but are not required.  Also, the wait time for food is a little longer at The Old Edgefield Grill than in a chain restaurant as there is one cook, and meals are prepared when ordered.  However, we found Chef Heather Biddlecome's creations well worth the wait.
When the Culinary Critics arrived at The Old Edgefield Grill around 7:30 on a Wednesday evening, owner Stan Newsome greeted us and escorted us to a table by a window.  Let us pause here a moment and elaborate on something we found pleasantly surprising.  Newsome is the owner, as stated, and the Front House Manager of The Old Edgefield Grill.  However, Newsome also serves in a capacity not expected of a restaurant owner and that is as a waiter.  We found this to be a great added touch!  Who would care more about the patrons of a restaurant than its owner?  Newsome is contentious, attentive, and focused on patrons having a fine dining experience.  Our takeaway thought from this was that if more restaurant owners did this, there would be more satisfied customers.
Now, back to our experience.  Drink orders are taken shortly after seating, and not long afterwards, a basket of corn muffins is brought to patrons' tables.  The Culinary Critics found these muffins to be warm and sweet.  We ordered an appetizer of fried green tomatoes.  These freshly cut, hand breaded tomatoes served with house bacon remoulade and house pimento cheese were simply yummy!  We received our only disappointment of the evening when we were informed that one of the restaurants best known dishes, shrimp and grits, was not available.  It seems that the restaurant was delivered the wrong type grits for the dish.  While one of us had planned to order that dish, we decided that this, again, showed the care of the owner (and chef) for his patrons in that he would rather not serve the dish at all than serve it with ingredients deemed inferior.  We ordered instead the special of the night, the Edgefield BLT, and the Smoked Chicken and Seafood Bog.  The bog, a Louisiana dish with smoked, shredded chicken and boiled shrimp served over a bed of seasoned rice, is quite spicy.  In fact, it was too spicy for the more sensitive taste buds of the female Culinary Critic.  However, the male of our duo, declared it quite tasty and said that it had the best sweet onions he had ever tasted.  While it was well received, the BLT was undoubtedly both of our favorites.  I say both, because this burger is so large it is easy to share, and share, we did.  It reminded us of the Dagwood sandwich from the old Blondie cartoons. It was the first time we had ever eaten a hamburger with a knife and fork.  This burger puts a special spin on the BLT, topping it with fried green tomatoes and pimento cheese.  The male Critic declared that it was "pretty much the perfect burger."  The BLT is served with a choice of sides, and we had the fruit cup.  Filled with strawberries, red grapes, and pineapples, the fruit in this cup was crisp and sweet.  It was a nice alternative to fries.  We found each these dishes to be filled with flavor, to be the right potion sizes, and, in the case of the BLT, to be as fun trying to figure out how to politely eat as it was to eat.
The Old Edgefield Grill does have separate lunch and dinner menus although there are sometimes a few crossover dishes, as in the case of the BLT.  Both menus offer appetizers which range from $7-9.  Additionally, the selections on both menus are more limited than are those found in chain restaurants as The Old Edgefield Grill is about the quality of choices not the quantity.  Lunch menu items range in price from $7-15.  The dinner dishes range from $21-31.  Drink choices include the standard carbonated drinks, tea, water, and bottled beers (there are none on tap).  The Old Edgefield Grill also has a lengthy wine list that includes red and white wines as well as dessert wines and champagne.  By the glass, these can be purchased from $5-8, and by the bottle, their costs start at $23 and go up.  With our drinks, appetizer, two entrees, and tip, the Culinary Critics' meal cost around $60.
Perhaps the male Critic best summed up The Old Edgefield Grill when he described it as "swanky but relaxed."  It is a great little place right in the heart of Edgefield where one can get gussied up (or not) and eat fine food.  This was a great dining experience for us.  The ambiance, the service, the food – it exceeded our expectations.
The Old Edgefield Grill rating: Five Forks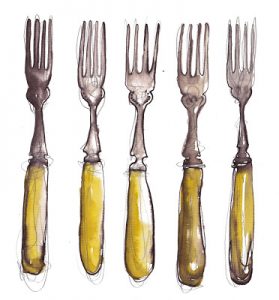 Rating System: 0-5 forks
0 forks – Not good at all; 1 fork – bad but might try again; 2 forks – fair; 3 forks – good; 4 forks – great, and 5 forks – excellent.