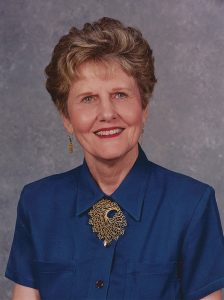 North Augusta, SC—Funeral Services for Mrs. Edna Koon McKie Daniels, 80, of North Augusta, SC, who entered into rest August 9, 2016, will be conducted Friday morning at 11 o'clock from the First Baptist Church of North Augusta.  Dr. Gary C. Redding officiating.  Interment in the Peace Haven Baptist Church Cemetery.
Mrs. Daniels was born in Edgefield County on October 30, 1935, having made North Augusta her home.  She was an active member of the First Baptist Church of North Augusta for over 60 years, teaching Sunday School and directing various choirs while singing in the Sanctuary Choir.
Mrs. Daniels graduated from Edgefield High School in 1953, earned her bachelor's degree in music from Augusta College and her master's degree in music education from Appalachian State University. She played the piano for the Henri Price Dance Academy in Augusta, then taught chorus and music in Augusta, Edgefield County and Aiken County Schools. She received her realtor license and sold real estate in Aiken County and also served as the Merriwether Correspondent for The Edgefield Advertiser.
An active member of the Republican Party, she once ran for South Carolina State Representative. Mrs. Daniels played for weddings and funerals across the area
for most of her life and was a member of the Delta Kappa Gamma. She married Milton Harris McKie on July 7, 1953 and Gene Nesbitt Daniels on December 21, 1978.
Survivors include her husband, Gene N. Daniels; two sons and a daughter-in-law, Russell S. & Vicki McKie, North Augusta and Donald G. McKie, Evans; a daughter and son-in-law, Melanie M. and Landon Meadow, Clarksville, Tennessee; seven grandchildren, Raven M. (Chad) Neivel, Russell (Rachel) McKie, Jr., Danielle M. (Cameron) Ballard, Caroline R. McKie, William McKie, Caleb M. Meadow and Joshua D. Meadow; three great grandchildren; a brother, Paul Koon, North Augusta; a sister, Vergie Thornton, North Augusta.
Pallbearers will be Chad Neivel, Rusty McKie, Caleb Meadow, Joshua Meadow, James Koon and Mathew Koon.
The family will receive friends at the funeral home Thursday evening from 6 until 8.
In lieu of flowers, memorials may be made to St. Jude's Children's Hospital, 262 Danny Thomas Place, Memphis, TN 38105.
The family expresses appreciation to National Health Care and Caris Hospice for their kindness in caring for Mrs. Daniels.
Posey Funeral Directors of North Augusta in charge of arrangements (803-278-1181). Visit the registry at www.poseycares.com