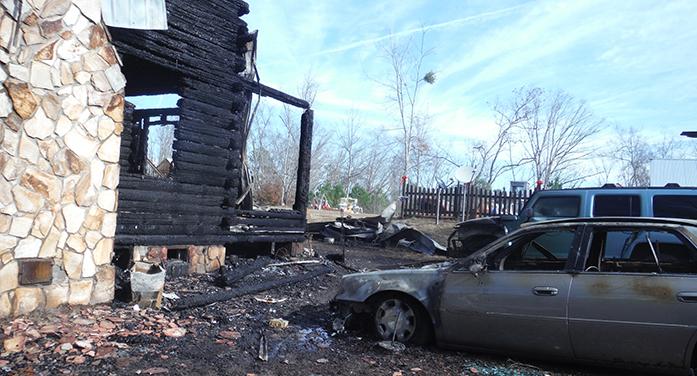 An early morning fire, Thursday, Dec. 29, claimed the home of Rusty and Deborah Prater, longtime residents of the Westside community.  According to a fireman with Westside Fire Department, the call went out a little after 6:00 Thursday morning.  When fire officials arrived, the home was fully engulfed.  However, before fire responders were able to get to the scene, some passersby were able to rescue the Praters who had been awakened by their smoke detectors.  Since, the bottom floor of the two-story home was already engulfed, they two were able to exit the home through a small window and climb onto the roof of the burning home.  That is where the passersby found the two and were able to be guided by Mr. Prater to a ladder that was used to get the couple off the roof just before it collapsed.  Mr. and Mrs. Prater were both taken to the hospital for treatment for non-life threatening conditions.  It has also been reported that one of the good Samaritans who helped rescue the pair also needed minor medical attention for an injury he sustained during the rescue.
Westside, Merriwether, and Edgefield Fire Departments all responded to this fire, and one of the officials who spoke to the Advertiser declared the home "a total loss".  However, no other injuries were reported.  Chief Joey Smith with MFD said in a press release about the fire that the home was an approximately 5000 sq. feet, two story structure.  In that release, Smith said the EFD was called to assist with a tanker and that approximately 15,000 to 20,000 gallons were hauled 7 miles from the closest fire hydrant.
There was no word as to what caused the fire, but one fireman who spoke to the Advertiser said that it is believed the fire started at the front of the home.