This weekend I was travelling and visited a church in Central Florida.  At this church I met some of the individuals who were behind the 2006 film Bella. I strongly encourage everyone to watch this movie, which is available on Netflix and Amazon.  Allow me to share with you the behind the scenes of this movie, and by God's grace, the lives that have been impacted – indeed been saved as a result of this powerful film.
Watching this film, you become drawn into a love story of two individuals, who are not a couple at the beginning, but through what appears as tragedy in one's life, the tragedy in another's life is shared and in the end a life is spared and provided a chance to thrive.
In 500 words I cannot explain the movie and the behind the scenes, so I am going to focus on behind the scenes.  This film is not overtly about making a decision how to address an unwanted pregnancy.  It mingles the tragedy of a professional soccer player running over and killing a five-year-old girl and the mental anguish that radically changes the course of his life as a result, overlaying that tragedy with his friend deciding how to handle an unplanned and unwanted pregnancy.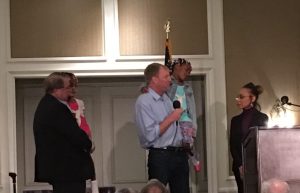 Many in the church I attended provided funds to produce the movie.  This Sunday, one of the producers returned a decade later to provide an update.  In the last decade, this film was used in Crisis Pregnancy Centers, provided to women to watch the night before their scheduled abortions.  The Producers of the film have received over 1,000 letters describing stories like I am about to share.  He introduced the woman in this picture and her two precious little girls.  She shared her story.
The story is not unique.  It is played over millions of times in our country.  She became pregnant through a man who wanted her to "take care of it," and alone was faced with the painful decision millions of women worldwide face when they address the consequences of actions they never thought they would have to face.
In short, after watching the movie, despite the hardship she knew her decision would cause, the next morning as she entered the crisis pregnancy center, she prayed "God, please multiply what is in my womb."  Her prayer was for healthy growth, not for twins.  God ended up providing her two amazingly beautiful little girls.  She went on to share the joy of raising her daughters, and how grateful she was for the movie, which literally changed the course of her and her daughter's lives.
Life is a non-respecter of person issue!  The film, which has been used to save unknown lives, was about two Hispanic families living in New York City.  In this example, it saved black lives from the heart of Central Florida.  The movie was produced by an individual from Mexico who received funding from Caucasians who believed in the message, that it had the potential to accomplish, to save lives.  Save lives it did!
More on this issue next week.
Have a blessed week!
Scott Cooper