By
Dr. Marian Bland
If you have never visited The Old Exchange & Provost Dungeon in Charleston, it is a "must see"! The docents at this small but wonderful piece of history provide an excellent overview of the building's uses over the years and share intriguing stories not found in history books. I especially appreciate the placard with the names of those imprisoned and detained since it includes two of my favorite Patriots: Capt. James Butler and Capt. John Ryan. I previously wrote about Capt. Butler and his very heroic family, so this article will focus on Capt. Ryan. And we will see connections between these two courageous families, which is not surprising considering how sparsely populated the "backcountry" of the old Ninety-Six District was.
Available sources state the Ryans were of Scotch-Irish descent, but the earliest genealogy data begins with Benjamin Ryan, Sr. (1718-1793) and Mary (1708-1799) who came to Edgefield from Virginia around 1762 with their three sons: John (1743-1827), Benjamin (1745-1813), and Lacon (1748-1785). Devoted to the Patriot cause, all three sons served in the Revolutionary War: John as a Captain, Benjamin as a Private, and Lacon as a Lieutenant.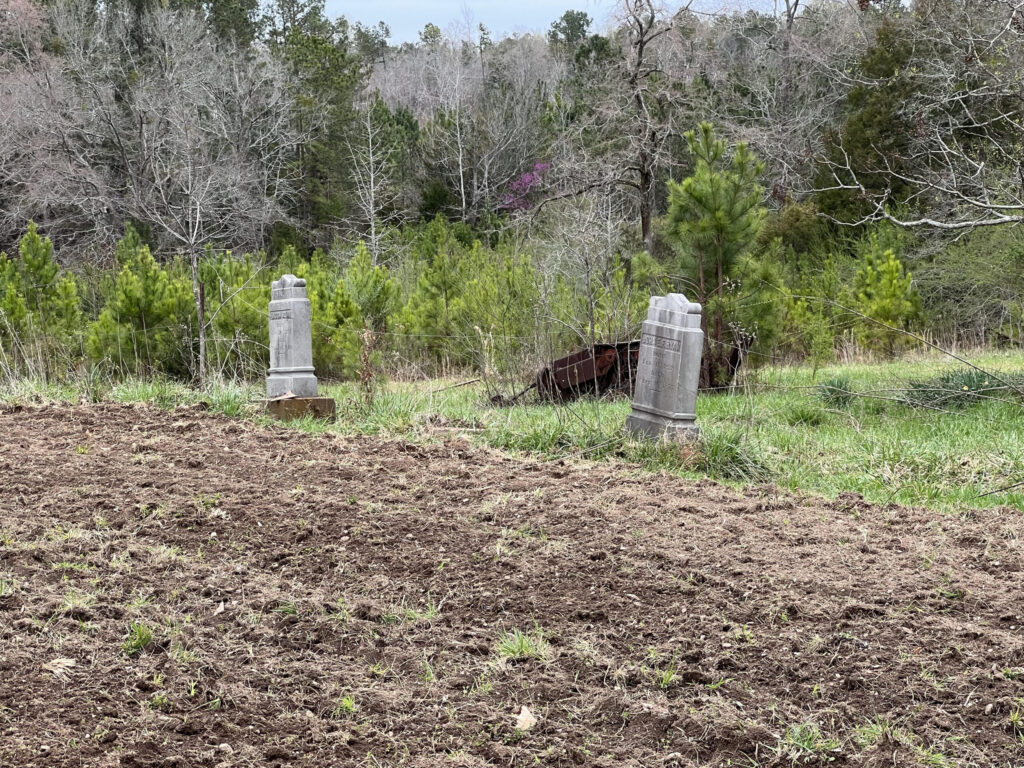 The stories of Capt. John Ryan's exploits abound, painting a picture of a man undaunted by obstacles and determined to settle all scores. The following events are summarized from John Ryan's Obituary, printed in the 2 Nov 1827 Columbia Telescope. John Ryan was appointed a Lieutenant during the Cherokee War of 1768 and "always volunteered in the most hazardous enterprises." He was made a Captain during the Revolutionary War and served under Colonel Leroy Hammond. When the British tried to make him take up arms against his neighbors, Ryan refused to swear the oath of loyalty and was imprisoned along with Captain James Butler in Charleston's provost prison. Reminiscent of Odysseus' struggles to return home, Capt. Ryan then faced a series of challenges as he attempted the journey from Charleston to Horn's Creek. He was subsequently removed from the dungeon and put on a prison ship, where he suffered "incredible hardships." He eventually escaped the ship but remained trapped behind the British lines in Charleston. A woman who knew of his dilemma encouraged him to approach a British sentinel and pretend to be a patriot deserter, a plan which Capt. Ryan successfully executed. While continuing his journey home, Ryan was stopped by three Tories and when asked his name, Ryan gave the name of a well-known Tory in his neighborhood. One of the men named Holly did not believe him and searched Ryan, discovering his commission. Holly then presented his gun, intending to kill Ryan, but the Captain was able to talk Holly into taking him to their camp, to which Holly agreed because he knew the men there would kill Ryan. However, when they arrived in camp, the old Tory leader released Ryan. But as Ryan again turned for home, Holly and his crew followed him, stripped him of his clothes, weapons, and horse, and left him "with great indignity." Ryan finally arrived home and immediately assembled some of his company and went after Holly. When they arrived at the camp, it was empty except for an old woman, the wife of the leader who had let Ryan go. John Ryan left her unharmed, providing her with beef for her subsistence. He went on tracking the Tories, found Holly, and gave him a "summary execution." Then he finally made it home to his plantation.
Captain Ryan never let an insult go unanswered. As recounted by Senator Benjamin Ryan Tillman and included in Bettis Rainsford's The Early History of Horn's Creek Baptist Church, John Ryan was again captured by the Tories near Horn's Creek Church. "His Captors, needing a rope, ordered a Tory who was plowing nearby to give them his plow line so as to tie [Ryan]." The farmer's name was Booth and he purportedly replied, "I would lose a year's plowing to see John Ryan tied." Captain Ryan never forgot the slight and after his escape (yet again) from the Tories, he set up watch for Booth. He encountered the man at Sarah Jane Spring, as Booth's sister was delivering his dinner. Booth heard a noise and turning around, found Capt. Ryan with a gun levelled on him. He begged for his life, but to no avail as John Ryan shot him dead.
In another instance, again paraphrasing from his obituary, Captain Ryan planned an attack on the rearguard of a retreating British company. Since Ryan's small unit of about 50 militia soldiers was outnumbered, he ordered all but four men to attack. He positioned the four men strategically, directing them to blow their bugles and beat drums to indicate a larger force was approaching.
"This ruse de guerre succeeded perfectly."

       After a severe skirmish, the wagons were captured, with abundant supplies of arms, ammunition, and clothing, which to these men were the necessaries of life. Every man of the company was also enabled to take something of a prize home to his family, and before a supposed competent force from the British army could reach the scene of action, the baggage wagons were set on fire, and the Whigs dispersed. Some of them, it must be confessed, being very thirsty, had accidentally drank a very little of the rum, while others, from a laudable desire "to spoil the Egyptians," had overloaded their horses with other good things, and were overtaken in the pursuit. The company was ordered immediately to scatter, return to their homes, and gain to meet at a given time and place. Captain Ryan's command, which went from home almost destitute, returned to their families well-armed, well-mounted, well-clothed, and much elated. They were much more punctual than usual at the next rendezvous, in hopes of equally good luck. (Johnson, Traditions and Reminiscences)
According to Chapman, in 1781, Capt. Ryan and his company were "engaged in another expedition against the Tories in Orangeburg District. They were in force near the Court House. A number of Tories, finding their condition desperate, deserted to the Whigs, and Ryan, distrusting them, placed them in front with instructions to his men to shoot them if they proved false. In the fight which ensued, [Ryan] was again disabled and William Butler assumed the command. The Tories were defeated" (p. 38).
In late 1782, while again advancing against a party of Tories "with his usual impetuosity and perhaps too much temerity," he received a musket ball in the shoulder. Undaunted, he ordered his second-in-command to continue the attack. As the wound became dangerous and painful, he was forced to end his battlefield contributions. But he continued to issue orders and plan Tory attacks (Chapman, p. 129). Capt. John Ryan's second-in-command was lieutenant William Butler, son of Capt. James Butler. William is credited with chasing Bloody Bill Cunningham out of the country and into Cuba. He rose to the rank of Major General and is buried beside his wife, the heroine Behethland Moore Butler, in Butler United Methodist Church Cemetery in Saluda. The relationship between William Butler and John Ryan continued long after the war. In 1800, General William Butler was selected as the opposition candidate for Congress against incumbent Robert Harper, with his old commander Capt. John Ryan moving the nomination. He won the election and took his seat in 1801 (Chapman, p. 129).
Captain John Ryan "retired to his plantation on Horn's Creek, where, by industry, good management, and economy, he accumulated a large and valuable estate." He was the executor of his brother Benjamin's will. In his will, Benjamin asked that certain slaves be set free. John Ryan petitioned the legislature unsuccessfully in 1815, 1820, and 1824 to free his brother's slaves, never giving up the fight to ensure his brother's wishes were carried out.
While John and Martha Ryan did not have any children, it is widely suspected that he fathered a son, Gilderoy, with one of his slaves named Sophia. This is surmised as John Ryan not only freed Gilderoy but left him two hundred acres and named his friends, John Jeter and Christian Breithaupt, as trustees of the deed to ensure Gilderoy's rights to the land were protected. In 1820, Ryan also attempted to free Gilderoy's mother Sophia, but the State Senate Committee denied his petition.
Using dates from John Ryan's Bible and a ledger titled the "John Ryan Book," we uncover the Ryan lineage in the Old Edgefield District. Capt. John Ryan married Martha Nobles (1748-1818). Benjamin Jr. married Amelia "Milly" Odom (1758-1816) and they also had no children. It is through Lacon that the Ryan family line continued. Lacon married Margaret and they had Sarah (1780-1860) and Benjamin Ryan III (1772-1829). It is worth mentioning their descendants, as our hero, John Ryan, remained close with his family, leaving most of his estate to his niece, his five grandnephews, and nine grandnieces.
John's nephew Benjamin married Frances (1775-1814) and they had eight children: Lacon (1794-1840), Benjamin Jabez Ryan (1798-?), Stanmore Butler Ryan (1803 – 1846), John Elder Francis Ryan (1795-1841), Peggy Ryan (1805-?), William C. B. Ryan (1807-1818), Sampson Butler Ryan (1809-1818), and Pickens Butler E. Ryan (1814-?).
John's niece Sarah Ryan married first Col. George Berryman Moore (1769-1806). It is through this marriage that we find another connection between the Ryans and the Butlers: Capt. Frank Moore (1731-1771) was the father of George Moore and Behethland Foote Moore, who as mentioned previously, was married to William Butler. Sarah and George Moore's first daughter was Mary Elden Moore, who married Benjamin Tillman, a cousin of Senator Benjamin Ryan Tillman (Chapman states on p. 203 that the name "Benjamin Ryan" was given to the Senator's father not because of any familial connection but out of the great respect his grandfather Frederick Tillman had for the Ryan family). Sarah and George's second daughter, Elizabeth Berryman Moore, married her first cousin, Lacon Ryan (1794-1840).
Sarah Ryan's second marriage was to Benjamin Gallman (1780-1855). They had nine children including Rachel (1809-1829) and Susan Gallman (1814 – ?), who married their first cousins, John Elder Francis Ryan and Stanmore Butler Ryan. John E.F. Ryan and Rachel Gallman had a son, Benjamin G. Ryan (1829-1862) who was killed at the Battle of Maryland Heights. Capt. John Ryan's descendants through his grandnephew Benjamin Jabez Ryan are buried in Ebenezer Baptist Church Cemetery in Trenton. Another grandnephew, Pickens Butler E. Ryan, had two sons that died in the Civil War: Sgt Jabez Benjamin Ryan (1841-1862) who died of pneumonia at Camp Wigfall and is buried in Edgefield Village Cemetery, and his brother, Benji G. Ryan (1840-1862), who was killed in action at the Battle of Sharpsburg. The family of Stanmore Butler Ryan (1833-1907) is buried in Horn's Creek Baptist Church Cemetery. While I have been unable to uncover a source connecting this family directly to John Ryan's descendants, I believe they are indeed related to Stanmore Butler Ryan (1803-1846), John Ryan's grandnephew.
According to the SC Department of Archives and History, "Field stones or wooden slabs, most of which have been moved or have disintegrated, probably marked the majority of South Carolina's 18th-century graves. The relatively small number of remaining carved gravestones suggests that back then, few South Carolinians could afford either to purchase carved gravestones or to transport them to the burial site. In the sparsely settled areas of the state, family burial grounds were common." The Chicora Foundation states that the most common reason these old family cemeteries become neglected is that the family descendants move away or "die off." No living family members or the community feel a personal connection to those who are buried there so the land is eventually sold, and subsequent owners do not know (or do not care) about the historical riches residing therein.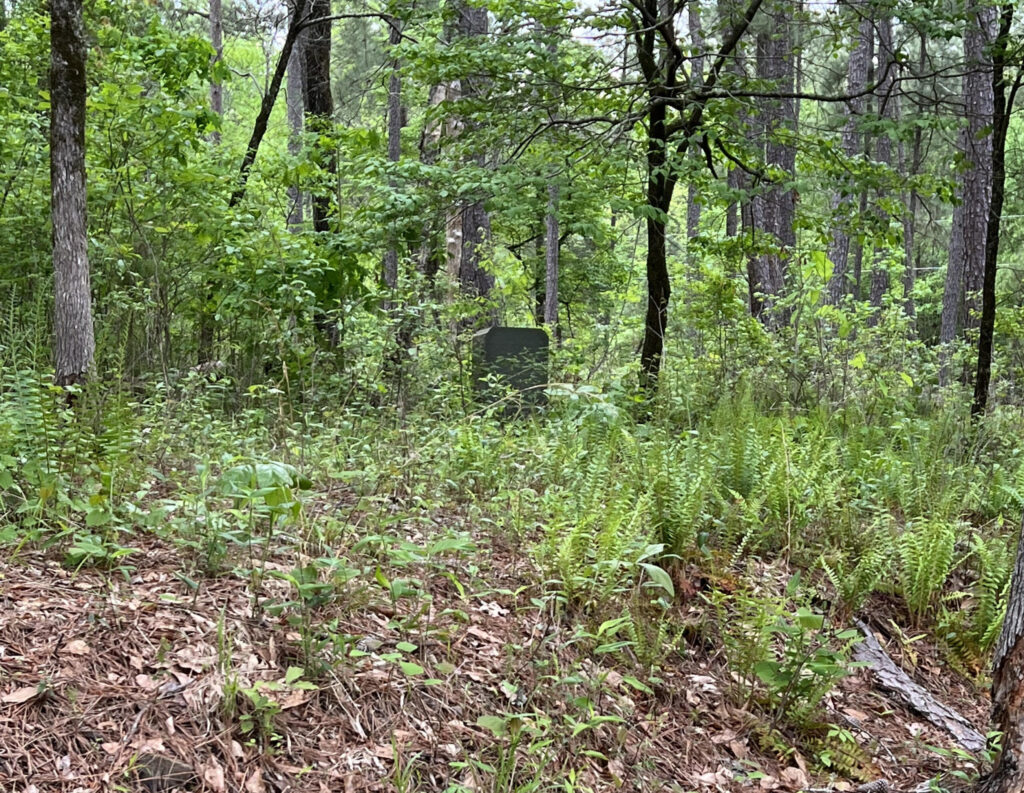 Captain John Ryan was a man of courage and strength, who valued the bonds of family and friendship. "At the close of the war, he retired to his plantation on Horse Creek, where he remained, cultivating the soil, seeking no office, loved and respected by all who knew him. He was a man who never refused to face an enemy and never turned his back on a friend" (Chapman, p. 129). The gravestones of Capt. John and Martha Ryan are gone, although there are still some in Edgefield who remember where they once stood. The closest relative to John Ryan with a marker still to be found is that of his grandnephew Lacon (1794-1840) – it is located on private property. Capt. James Butler's gravestone is still standing, marking the location where 28 men perished at Cloud's Creek, including my ancestor, John Bland. But for how long, as this is also on private property. We have been fortunate to date that the landowners have left the gravestones standing. Abram and Elizabeth Martin's marker remains, and I have higher hopes for its continued existence as it is protected on Sumter National Forest land. My joy in discovering and clearing these old cemeteries is offset with disappointment at how many historical cemeteries we are losing in the Old Edgefield District every year – Capt. John Ryan's being a prime example.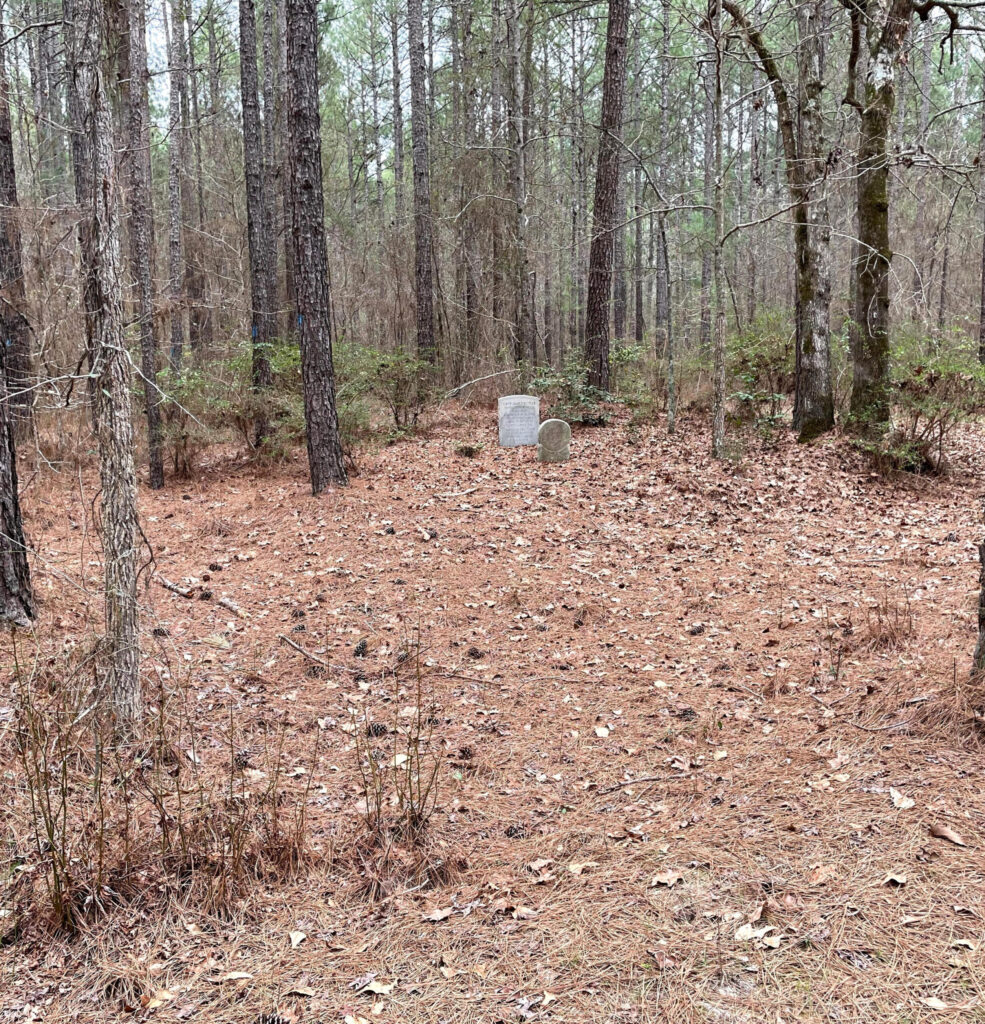 Sources:
Chapman, John A. History of Edgefield County from the Earliest Settlements to 1897, Aull, Newberry, S.C. 1897.
Chicora Foundation, Columbia, SC. ‌‌‌https://www.chicora.org/faqs.html#Someone%20else%20now%20owns%20the%20land%20were%20my%20family%20is%20buried.%20What%20are%20my%20rights
"John Ryan Book," National Genealogical Society Quarterly, Vol 51, No 02, June 1963. Data extracted by Charles Dyson Rodenbough, from the personal ledger of John Ryan 1802-1827.
"John Ryan Obituary," Columbia Telescope, 2 Nov 1827.‌Including Biographical Sketches, Incidents, and Anecdotes, Few of Which Have Been Published, Particularly of Residents in the Upper Country. Walker & James, Charleston, S.C. 1851.
"Lacon Ryan." https://www.familysearch.org/tree/pedigree/landscape/LDGL-C1W.
McGahee & Edmonds, South Carolina's Historic Cemeteries: A Preservation Handbook, South Carolina Department of Archives and History, 2007.
Rainsford, Bettis C. The Early History of Horn's Creek Baptist Church. 13 April 2014.
"Ryan." https://www.findagrave.com/memorial/search?firstname=&middlename=&lastname=‌Ryan&birthyear=&birthyearfilter=&deathyear=&deathyearfilter=&location=Edgefield+County%2C+South+Carolina%2C+United+States+of+America&locationId=county_2331&memorialid=&mcid=&linkedToName=&datefilter=&orderby=r&plot=