Kelley and Jodi Robinson are unofficial ambassadors for Foster Care. They live in the beautiful old Mobley home, built in 1888, on Edisto Street in Johnston.  That home is what brought them to Johnston, and here is their story.
Jodi and Kelley were living in Virginia where houses are expensive and they were making plans for their future.  They were getting married and they knew they wanted to adopt children.  Home would be an important place for them.  They found the Mobley home on Realtors.com and fell in love with it.  The picture showed the house with the azaleas in bloom, "as they are now," as Kelley said in this interview.
Kelly was able to put her computer in a suitcase, with the permission of her boss, and travel to Johnston, pull it out and continue her work.  She handles a large account for a pharmaceutical research company, and she does this work five days a week in her office, in the Mobley home. Jodi came south with plans to become a nuclear engineer, and he is in the midst of those studies now.  Together they have created a home for children.
Why foster care, we asked? And so begins Kelley and Jodi's strong belief in fulfilling a need. "It's scriptural," says Jodi, "Visit the widows in their plight," for example. We are to take care of others. She feels there are not enough people taking care of the children out there who are not receiving proper care, under the law.  "God gave us a home to do just that."  She feels more people need to open their hearts to love children unconditionally.  To love them just because.  So many have come through their home (24 since April 2009) who have felt so unloveable. They act it out when they come here – the children steal, hoard, gouge on food, all symptoms.
The Robinsons have taken this life of theirs very seriously.  And the Foster Care program sets up guidelines and policies, far more than years ago, and foster parents have to take it seriously.  There are 14 hours of training they go through every two years to keep their license, and licensing requires attending classes and with much paperwork to fill out.  There is a background check that is done every two years, also.
Some have felt folks do this for the money.  "It isn't worth it," says Kelley, if that's the reason for doing it. "We treat these children as if they are our own; they receive gifts and big Christmases." She quoted what is often said: "A good foster parent goes in the hole."
The house they bought has required much work as they have adjusted to the needs of children, and themselves.  They have a wonderful suite in back where they can have their own space.  There are numerous bedrooms for children.  Kelley says it is so important that children have their own space, their own bed, their own rooms – their own drawers for clothes. They manage this with an increasing need for more furniture and more space, which Jodi is able to help with..  He is skilled in building and they have a sub contractor that they use "PRN."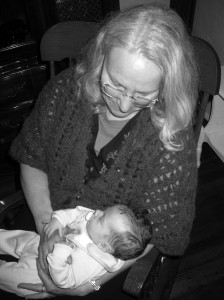 It takes more than just Jodi and Kelley to handle these children, and they fortunately have a Nanny, Jodi's mother, who came from the Mid-West to help them.  She has her own private quarters upstairs in a large space, where she can entertain her friends when she wishes. And the rest of the time she is overseeing the children's learning and play.
And speaking of play, Kelley was happy to report that in the last few weeks they have added a large play area behind the house, a playground that has a fort and slides – like a park.
At present, the Robinsons have three children in residence: two are their own by adoption and one is under guardianship with intent to adopt.  This is little Ian who came to them a few weeks ago, and on Monday he was 8 weeks old.  There is Flora, named for a relative of theirs, Gavin who has been their own (adopted) for some months.
On the day of the photographs in the story, there was another child who was "visiting" for a while.  No comments were made as to that child's situation, only that she was there to play.
The Robinsons are expecting more children in the future.  They have their sights on 7 children, a family that reaches from young years into their teens.  They have had these children before, and they are entering the Foster Care program again. Jodi and Kelley are hoping to be "forever parents" of these children and are making the house ready with new rooms opened, in case they are the fortunate parents.  They will be going soon to what is called a permanent planning hearing, and after that they will know.  They especially want to keep all these children together – one family.
So, it is easy to know what a week is like for these folks.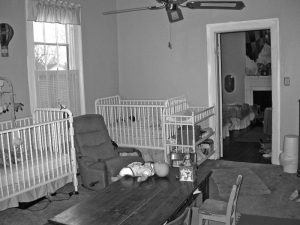 What about the weekends?  Kelly says that is pure family time. They go shopping together, they have a big Saturday breakfast together, and on Sunday, church time is very important.  They are still looking for the perfect church home for the family.
So, imagine this.  When they walked into the Mobley house back in 2009, Kelley slid down the banister – it was such a perfect stairway, she said.  She could imagine children being able to do that. She says the stairway is great for children as is the rest of the house. "We chose this house and Johnston because we wanted a safe place for our kids to grow up in."
And she is all praises about the elementary school in Johnston.  She has fallen in love with the administration and the teachers.  And how fortunate for those children, maybe ten in all, who will be going to the school from a home of such love and concern into a community that has been labeled by many, "Johnston, a great place to raise children."