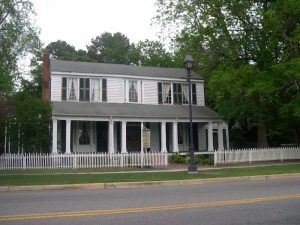 On April 21st, Edgefield County Historical Society and the Edgefield Chapter of the United Daughters of the Confederacy are joining together in sponsoring a tour of homes that will be open to the public and is called "The First Annual Spring Tour of Homes and Historic Sites."
The list of sites is long and rich with the show of homes, churches, and historic venues that involve also special artisans of the area. It is an opportunity for local citizens as well as tourists from outside the county to be reminded of Edgefield's antiquities and historic contributions – and where we are now in promoting our history.
Tickets may be purchased through the Discovery Center (803-637-3833 or 637-2233). They may also be purchased there the day of the tour.
Among the sites are: The Discovery Center, Oakley Park Museum, Magnolia Dale House Museum, E. J. Mims House (first time), Edgefield Courthouse, St. Mary's Catholic Church, John Kemp Antiques, Halcyon Grove, Willowbrook Cemetery, Trinity Episcopal Church, East Hill, Scout Gray House, Darby Plantation, Marshland and Gardens, Old Edgefield Pottery, Village Blacksmith, Ike Carpenter's Stand.