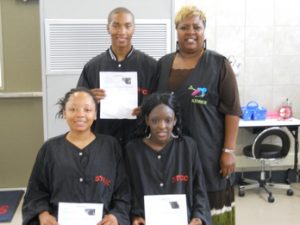 Four Strom Thurmond High School seniors traveled to Columbia, SC, on Monday, March 16, to take their Practical Exam for their Cosmetology License.
The practical exam consists of eight core domain services that they must know which includes set up and client protection; thermal curling, haircutting, chemical waving, virgin hair lightening application and hair color retouch, virgin relaxer application and relaxer retouch, basic facial and manicures. This process took approximately 5 hours and all four seniors passed.
They had to return to Columbia on April 16, to take their theory exam which consisted of 120 questions on general anatomy, skin structure, nail structure, muscle of the hand and head and nerves of the head, face and neck.  This took approximately 1 hour.  They all passed and we are proud to announce the first class of Licensed Cosmetologists from Strom Thurmond Career Center.
From left to right, Stephanie Carroll, Brandi Jackson. Back row Donnie Walker and Instructor Mrs. Kennion; not pictured Janette Upsoni.