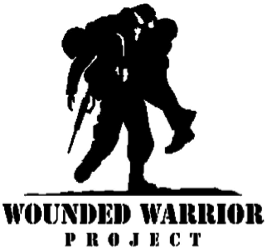 "The Greatest Casualty is Being Forgotten"
 Blue lights flashed in front of and behind the large white transport last Thursday morning marking the arrival of some eighteen war veterans to Edgefield for a tour of The National Wild Turkey Campus to include opportunities to do some fishing.  Members of Hezzie Griffis American Legion Post 30 and the Ladies Auxiliary were busy preparing the steak dinner at The Pavilion as the Warriors exited the transport to be greeted by NWTF CEO George Thornton, American Legion Commander Preston Creech and a very large crowd of well wishers.
The Wounded Warrior Project's mission is to honor and empower wounded warriors who incurred injuries or illnesses on or after September 11, 2001.  The Project's mission purpose is to foster the most well adjusted generation of wounded service members in our nation's history and NWTF along with American Legion Post 30 have been participating for some time.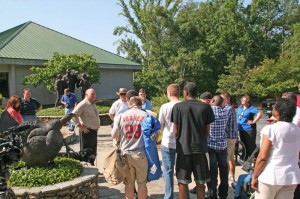 As the Warriors made their way up the ramp, toward the NWTF entrance this Thursday morning, they passed through a gauntlet of thankful Americans cheering them on their way to recovery and stating a loud thank you for what they had given to the security of this country.  Eighteen of the more than 48,000 servicemen and women that have been injured in recent military conflicts were receiving an appropriate welcome to Edgefield.
And laced throughout the cheering, clapping crowd were citizens who had been where the Wounded Warriors had been in another time and another place.  Citizens who know first hand how important it is to encourage these Warriors as they adjust to their new normal and get on with their lives.
Visit The Wounded Warrior Project website to learn more about their mission.