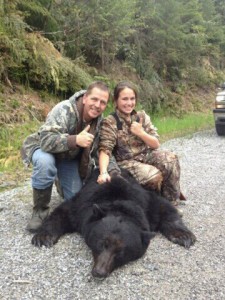 By Jack Reece
Danielle harvested a bear.  In other words Danielle laid a black bear low with a 30/06. No, I did not misspell the name. It is not Daniel or Dan'el it is Danielle and she is a 13-year-old girl from Greenville, South Carolina, who gave no indication of being related to the legendary frontiersman Daniel Boone. Ginny Wall brought Miss Danielle Worthen by The Oldest Newspaper in South Carolina last week and I got the opportunity to interview her. When Danielle walked in the front door I thought I had awakened in the setting of Hunger Games.
Miss Worthen has been hunting since she was 4 years old and during her childhood has hunted in Oklahoma, Tennessee, Alabama, Mississippi, Kentucky and Georgia to name a few. She told me that her dad, Kenny Worthen, got her into hunting with full support from Mom, Katrina. Heck, even Danielle's 20-year-old sister has started hunting.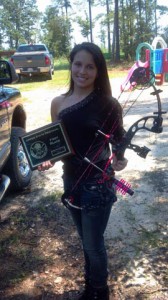 Included in this young lady's resume' is accomplished archer having won 1st Place in the Saluda River Archery Competition and 1st place at Keowee Bowman Archery Competition. She bagged her first turkey when she was 5 years old and during that same year she won her first turkey calling competition.  She is currently the State Turkey Calling Champion. Danielle's largest deer so far is an 8 point 185 pounder.  Oh yes, the bear, over 600 pounds was harvested on Prince of Wales Island in Alaska.
This bear hunter has appeared on numerous hunting shows and will be a regular on Southern Girls Got Game, a new series focusing on some of North America's most popular game species. She has also recently won the Upper State Archery Championship and the South Carolina Female Youth Championship.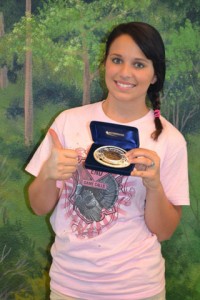 The "what is next?" question seemed almost anti climatic but I asked it anyway. Danielle dances competitively and has decided to compete for National American Miss next year. She plans to attend the College of Charleston and pursue a degree in Marine Biology with a little barrel racing and continued participation as a cast member of hunting and outdoors shows.
Makes me want to go out and carve her initials in the tree out front.  You know kind of like up in Kentucky where one can view D Boone killed a bar here 1760.